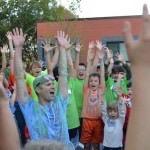 Dear Quest Community,
There are so many words that could describe our Family Fun Run and Festival: awesome, epic, amazing, excellent, wonderful, joyous, celebratory, etc. etc. etc!!!! I think I will settle with the one we used to describe the event, simply 'fun!'
Everywhere you looked on Saturday, no matter the age, everyone was having fun. Whether it was fun with the Toddler Dash or the Sack Race, the Rock Wall or the Raffle,  there were no sad faces. Parents and children alike were enjoying all Quest has to offer. Our  beautiful community shined in a way that can only be described as magical. With the weather gods smiling on us and help from the town of Narragansett, our little old "Walk for Quest" was transformed into a legitimate 5K Run that was more comparable to a mini-Boston Marathon.  It was perfect!  The DJ's music was a constant motivator as you entered the fall foliage of the wooded trail behind Quest. Each lap I ran, I saw parents talking to kids, kids talking with grandparents with smile after smile. The beaded necklaces were the perfect motivator for runners and walkers of all ages. Many of our students had never ran a 5K until Saturday. I am confident, Gary's cross country program should not have any problems finding future runners.
The PTO led by Susannah Blair (THANK YOU, Susannah!!!) with help from Jill O'Neil, Tempie Thompson, and Kristin Barclay plus an enormous cast of supporters that included just to name a few… Todd Blair, Brian O'Neil, Rob Cagnetta, and Eric Buchbaum (apologies to anyone I am forgetting) made it look effortless in the way they put together and took down an event that will be hard to top next year. Quick thanks to Eddie Davies for helping me hang the large banner. You were a life-saver, literally!
Again, thanks to Allegra Printing and the Sweeney family for all the signage, the Samponaro family for the Bounce House, the anonymous donors of the DJ, to Rock Spot for the use of the rock wall and gift bags, Drift Surf Shop for the skateboard deck for raffling, Sweet Cakes for the tastie treats, and the Quest staff for being extra spirited all week during Spirit Week to get the students fired up. A special thanks to the fabulous Anne Reinhardt for creating the most perfectly colored and cleanest smelling slime every made.
And, not to forgotten, we had a great Open House from 12:00 to 2:00 prior to the Festival starting. We had fifteen prospective students and their families represented. Thank you to all the parents who helped with the Open House including Amy Smith, Elisa Cardone, Bev Fournier, and Yolie Rome along with all the alumni who attended.
Finally, please, Please, PLEASE, thank your children! The Quest students did an amazing job!!! The Family Fun Run and Festival is their event. They own it and did an amazing job raising over $18,000!!! That's right, Quest blew the $15K goal out of the water!!! Thanks to Nathan Rome (MS Spirit Rep.), Taylor Hall (UE Spirit Rep.) and Sydney Cagnetta (LE Spirit Rep.) for regularly getting their classmates fired up and excited about the fundraiser. Special thanks to Oliver Shull, a first year Lower Eler, for his dance skills and organizing the Quest Dance Party at the flag pole. Very cool!
To Yolie Rome (PTO President) and all the members of the PTO, Quest owes you an enormous thank you! Again, Susannah Blair, YOU ROCK! GREAT JOB!
Best,
Mike