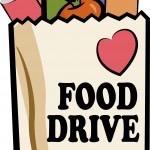 Hello Quest Parents and Students!
The Quest PTO is excited to once again organize a Winter Food Drive to help those in our community that are less fortunate. This year we are partnering up with the Food Pantry at St. Peter's Church in Narragansett. They serve a total of 260 families in South County and have approximately 60 families visiting them weekly. This is the ONLY food pantry in southern RI that is open every week; allows clients to shop every week; and never turns anyone away. So they really need our help to be able to keep up with demand!
Based on the needs of the Food Pantry, we have split up a list of suggested items to be donated by classroom (see below). Of course, feel free to break the rules and donate to other classrooms as well … it's all for a great cause !
Grab the list and your child(ren) and shop together to help your community !
Quest kids can drop off their items in the bins located in their classrooms beginning Monday 12/8 thru Thursday 12/11
TODDLER:
• Canned or jarred fruit – applesauce, peaches, pears, mixed fruit cocktail
• Oatmeal – individual packets or large container; Instant or original; Flavored or plain
CHILDREN'S HOUSE 1:
• Cake, Brownie, and Cookie mixes – all types including holiday breads
• Disposable baking pans (to go with the above) – Round for cake mixes; square for brownies; flat disposable pans for cookies
CHILDREN'S HOUSE 2:
• Shelf stable milk – quart size or lunch box size; white milk ONLY please (whole, 2%, or skim); NO soy, chocolate, or almond milk please
• Bread and English muffins – white, rye, or wheat; NO multigrain or dark, bakery breads, or homemade breads please
LOWER ELEMENTARY:
• Packaged snacks for lunchboxes – ex. Individually packaged small portions of cookies, crackers, fruit rollups, granola bars
• Canned chicken, tuna, or turkey
UPPER ELEMENTARY:
• Baby wipes
• Aluminum foil
MIDDLE SCHOOL:
• Disposable diapers – size 3 (toddlers) is requested most often but all sizes are welcome
THANK YOU AGAIN FOR YOUR GENEROSITY!