http://www.theguardian.com/sustainable-business/2014/jul/23/entrepreneur-larry-page-google-innovation-change
How Google's Larry Page became a responsible entrepreneur
Four early influences helped shape the Google CEO's world view and turn him into a change agent, writes Carol Sanford
Our planet's natural systems are under siege, whole communities are filing for bankruptcy, and the ​disparity between rich and poor has widened. These reasons, among others, are why we need entrepreneurs who challenge the world to rethink assumptions about how business "should" be done. These kinds of leaders can make sustainable the status quo.
My​ book, The Responsible Entrepreneur, calls upon entrepreneurs and businesses to step up their game. In it I profile​ rising stars including Jay Coen Gilbert of B Lab and Cheryl Contee of attentive.ly, ​along with well-known leaders like Steve Jobs, Richard Branson and Oprah Winfrey.
In this excerpt, I ​describe the early influences that helped Larry Page, the co-founder and CEO of Google, become a changemaker:
To understand Google's orientation toward creating global change, it's helpful to know a bit about four influences that helped shape Larry Page's world view: his grandfather's history in the early labor movement, his education in Montessori schools, his admiration for the visionary inventor Nikola Tesla, and his participation in the LeaderShape Institute when he was enrolled at the University of Michigan's engineering school. These helped build in Page the desire and confidence to take on large-scale systemic change.
In the 1920s and 30s, Page's paternal grandfather worked as a pipe fitter at a Chevrolet plant in Flint, Michigan. Prior to 1937, serious injury on the General Motors assembly line was a normal part of daily life for workers, and they could be fired at the drop of a hat for exhibiting a "questioning attitude." Workers could be beaten by their bosses. No government organization ensured worker safety. No union negotiated for decent working conditions and fair wages.
As early organizers for the United Automobile Workers union, Page's grandfather and his peers risked their lives to change conditions for American workers. They locked themselves into the factory for months to prevent work. They fought and lost and then fought and won in the courts for their right to organize. Their efforts helped bring millions into the middle class and shaped a new ethic in America.
Page told Adam Lashinsky in an interview for Fortune magazine that the hardships of his grandfather's story made him want to make Google an entirely different kind of workplace, one that, instead of crushing the dreams of workers, encouraged their pursuit:
My grandfather was an autoworker, and I have a weapon he manufactured to protect himself from the company that he would carry to work. It's a big iron pipe with a hunk of lead on the head. I think about how far we've come as companies from those days, where workers had to protect themselves from the company. My job as a leader is to make sure everybody in the company has great opportunities, and that they feel they're having a meaningful impact and are contributing to the good of society. As a world, we're doing a better job of that. My goal is for Google to lead, not follow.
An unconventional education was a second significant influence in Page's life. Like his Google co-founder, Sergey Brin, Page attended Montessori schools until he entered high school. They both cite the educational method of Maria Montessori as the major influence in how they designed Google's work systems.
The Montessori Method believes that it has a "duty to undertake, in the school of the future, to revolutionize the individual." Montessori's ultimate goal of education was to create individuals who could improve society and were unafraid to take on seemingly impossible tasks. In fact, Montessori spoke at length about education for peace. "Everything that concerns education assumes today an importance of a general kind, and must represent a protection and a practical aid to the development of man; that is to say, it must aim at improving the individual in order to improve society"
Maria Montessori believed that the liberty of the child was of utmost importance. For her it was imperative that the school allow a child's activities to freely develop. Without this freedom, children could not grow the personal agency that would allow them to serve a social purpose as adults. Thus, Page's childhood education promoted independence. It encouraged students to grow at their own rate. They were allowed large chunks of uninterrupted time to work on projects they created themselves. Students were encouraged to take on small-scale but real-world challenges and to invent ways to solve them.
It's easy to see how Google's well-known policy of encouraging all engineers to dedicate 20% of work time to projects of personal interest grew directly out of this educational history. And why collaboration without supervision is core to Google's work culture. And why Page repeatedly exhorts his colleagues to generate "10x returns" with regard to the social benefits they are striving to create. He is recreating the inspiring learning environment he had as a child, where the focus was on growing free people with the capacity to transform society.
One of Page's childhood heroes was the eccentric and brilliant Croatian inventor Nikola Tesla. Tesla's work laid the ground for everything from lasers to radios, fluorescent lightbulbs to remote controls. He pioneered electrical engineering and developed the alternating current system of electrical distribution.
Tesla's story caused the adolescent Page to dream of making important technological advances. But he also knew it was a cautionary tale, because Tesla died in poverty, the quintessential "mad scientist." Page deduced that Tesla died penniless because he lost control of his inventions, and it dawned on him that if he wanted to retain control of his own products and inventions, he would someday need to start his own company.
The last piece of Page's development as a regenerative entrepreneur fell into place in 1992, when he was a student at the University of Michigan. Page participated in a new program called LeaderShape, whose motto was: "Lead with Integrity. Disregard the Impossible. Do Something Extraordinary." Participants were asked to imagine a world without poverty, racism, sexism, crime and all the other barriers to realizing people's full potential. They were encouraged to make choices, take risks and develop a vision for change corresponding to their passion. Page says he took the admonition to make a really big systemic change to heart. He started by wanting to change transportation. (Actually, he still does. Google is working on a driverless transportation system that Page conceived in 1993, when he won 11th place in the World Solar Challenge.)
As a regenerative entrepreneur, Larry Page has scouted for leverage points that allow him to use his position to influence the way the game is structured at the highest level. He has used the rules to change the rules (institutional jujitsu), often before people have had a chance to perceive the implications of what he has set in motion. Whereas most people see laws or regulations as an impediment to change, Page sees them as leverage.
Carol Sanford is an author and consultant who has advised such companies as DuPont, Procter & Gamble, Seventh Generation and Google. Excerpted with permission of the publisher, Wiley, from The Responsible Entrepreneur: Four Game-Changing Archetypes for Founders, Leaders, and Impact Investors by Carol Sanford.
Check out the progress of our "new home"
NPR's Garrison Keillor blogged  in the Writers Almanac about Montessori's birthday – you can either read it or listen to it.
It's the birthday of Maria Montessori (books by this author), born on this day in Chiaravalle, Italy (1870). She was a bright student, and she wanted to study engineering. So when she was 13, against her father's wishes, she entered a technical school, where all her classmates were boys. After a few years, she decided to pursue medicine, and she became the first woman in Italy to earn an M.D. degree.
As a doctor, she worked with children with special needs. And through her work with them, she became increasingly interested in education. She believed that children were not blank slates, but that they each had inherent, individual gifts. It was a teacher's job to help children find these gifts, rather than dictating what a child should know. She emphasized independence, self-directed learning, and learning from peers. Children were encouraged to make decisions.
During World War II, Montessori was exiled from Italy because she was opposed to Mussolini's fascism and his desire to make her a figurehead for the Italian government. She lived and worked in India for many years, and then in Holland. She died in 1952 at the age of 81. She wrote many books about her philosophy of education, including The Montessori Method (1912) and The Absorbent Mind (1949).
Google Doodle Celebrates Educator Maria Montessori

By Angela Moscaritolo

ARTICLE DATE : August 31, 2012

pcmag.com
Google on Friday honored Italian physician and educator Maria Montessori with a homepage doodle celebrating her 142nd birth anniversary.
The drawing (below, right) features some of the tools that form the basis of Montessori's educational methods, which emphasize hands-on, individualized learning within mixed age groups in a child-friendly setting.
Montessori was born in 1870 in Chiaravalle, Italy and early on rejected the traditional gender roles of her time, choosing to attend technical school, which few girls did, according to her NNDB biography. Upon graduation, she continued her education at the Regio Istituto Tecnico Leonardo da Vinci, where she excelled and developed a passion for the biological sciences.
In 1890, she applied to University of Rome but was denied entrance to the medical program because of her gender. Instead, she enrolled to study physics, mathematics, and the natural sciences and was eventually allowed to study medicine. In 1896, she presented her thesis to an all-male board and they were so impressed that they awarded her a full medical degree, making her the first female doctor in Italy.
Montessori Doodle
After working in insane asylums with mentally handicapped children, in 1904 she began re-engineering the field of children's education. She believed that all children have an inner drive to learn, and that children learn best when in a safe, hands-on learning environment.
Montessori also found that children help teach each other when put into groups with other kids of their own age range. She believed that teachers should pay close attention to students, not the other way around.
Her early efforts were so successful that she amassed a large following of parents and teachers who wanted to learn her methods. She later gained support from Thomas Edison, Helen Keller, and Alexander Graham Bell, who founded the Montessori Educational Association, headquartered in Washington D.C.
Montessori died in 1952 in The Netherlands. Her methods are still in use today in public and private schools all over the world.
Google's co-founders, Sergey Brin and Larry Page, both went through the Montessori education system and have credited it for their success.
"I think it was part of that training of not following rules and orders and being self-motivated, questioning what's going on in the world, doing things a bit different," Page said in an interview with ABC (below).
For more on Google's doodles, meanwhile, see the slideshow below. Recently, the company has honored Amelia Earhart, jeweler Peter Carl Fabergé and Robert Moog, considered by many to be a pioneer in the electronic music space, as well as artist Keith Haring, zipper pioneer Gideon Sundback, and Howard Carter, a British archaeologist best known for uncovering the tomb of King Tutankhamen in Egypt.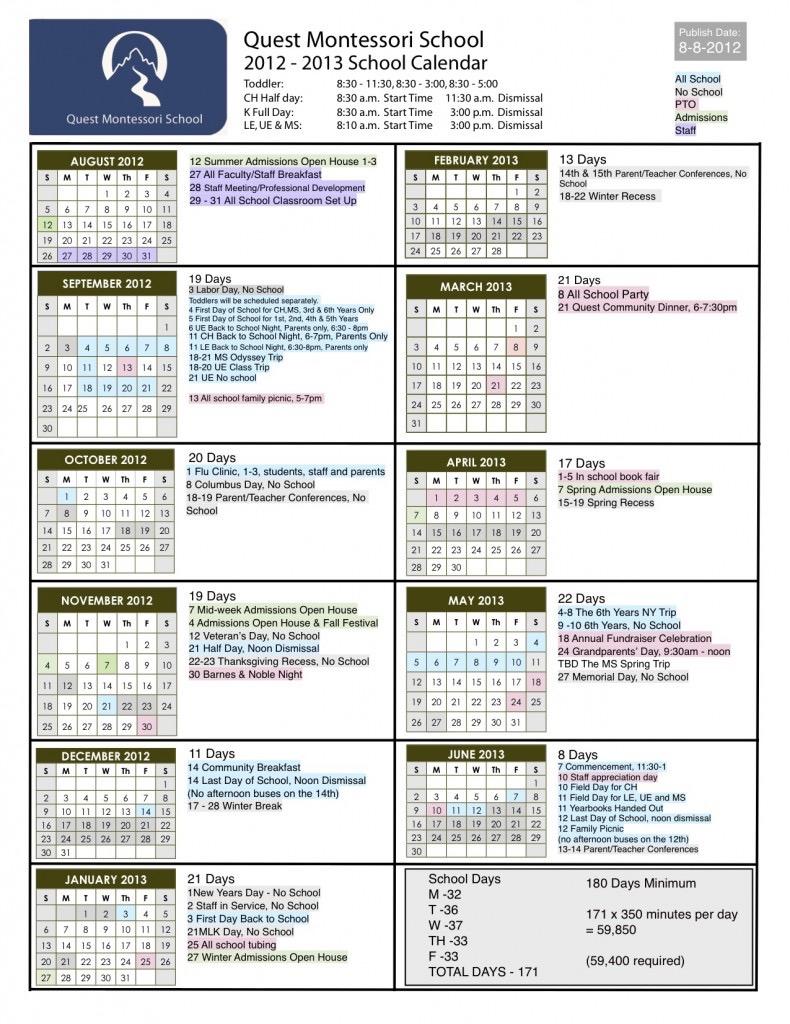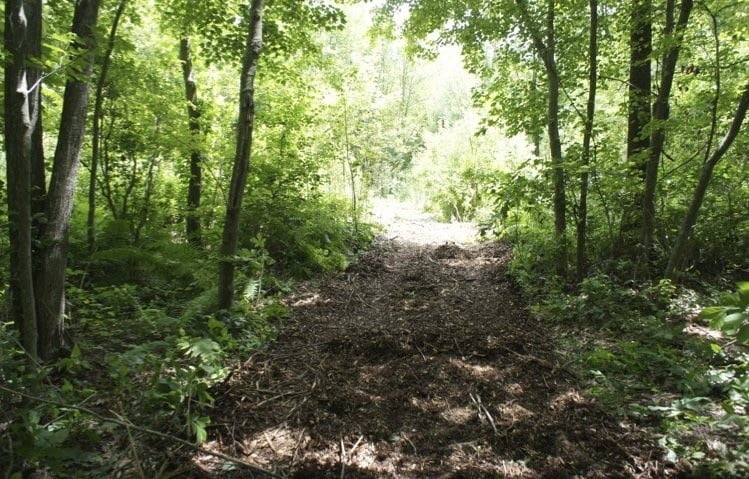 Dear Quest families and friends,
I am happy to report that today, June 12th, the school owns 1150 Boston Neck Road, Narragansett. This six acre pristine property, wonderfully wooded and a mere walk down a path to an adjacent city park, will serve as the anchor to our new building and our place called home.
Seven years ago this month Quest began the journey to our permanent home. A group of visionary parents, friends, and staff have worked tirelessly with patience, persistence and perseverance to arrive today, down the long and winding road to our permanent home.
Lao Tzu said: "A journey of a thousand miles begins with a single step."
Twenty-six centuries have passed since Lao-tzu said this; and it feels like our project has lasted as long!!!
We have learned that the first step is as much about faith in the future as it is about mobility. With those first steps we learned to trust in ourselves and our vision. Along the way we learned the implacable truth of gravity, and that the only antidote to falling down is getting up again. We have dusted ourselves off and started again so many times.
Today, we have learned that over the course of a journey we will take many steps and with each of those steps we relearn the lessons already taught. The truest measure of success is not the achievement, it is the willingness to never give up for a goal worthwhile.
Paul

Dr. Montessori believed that "the hands are the tools of the mind" and created an approach to learning which engages each child in the two-fold process of purposeful activity and intellectual development. In Education for a New World, Dr. Montessori recognized that,
"Mind and movement are two parts of a single cycle; and movement is the superior expression. … If through force of circumstances the child cannot use his hands, the child remains incapable of obedience or initiative, lazy and sad, whereas the child who can work with his hands shows firmness of character."
Being a father of a nine year old boy and a Montessori educator, I read with great interest what has become a popular theme growing both in notoriety and credibility, schools at every level of education are failing boys.
By almost every benchmark, boys across the nation and in every demographic group are falling behind. In elementary school, boys are two times more likely than girls to be diagnosed with learning disabilities and twice as likely to be placed in special-education classes. High-school boys are losing ground to girls on standardized writing tests. The number of boys who said they didn't like school rose 71 percent between 1980 and 2001, according to a University of Michigan study. Nowhere is the shift more evident than on college campuses. Thirty years ago men represented 58 percent of the undergraduate student body. Now they're a minority at 44 percent. This widening achievement gap, says Margaret Spellings, U.S. Secretary of Education, "has profound implications for the economy, society, families and democracy."
Yet in this modern age the industrial model for classroom learning remains relatively unchanged in conventional schools. This model has increasingly favored girls and comes up short for boys. The Montessori education model, on the other hand, has always had a hands-on activity based approach to learning that is ideally suited to boys (and girls, for that matter). The Montessori approach recognizes the behavioral tempo of individuals and accommodates it by allowing students to move freely about the classroom. With this freedom comes greater responsibility which students embrace and which aids in the independent learning process. The motivation for hard work and accomplishment grows from the excitement and interest of the students, not from the external motivators such as grades or advanced placement.
In this age of educational accountability there is an ever increasing parent population who measure school success by test scores and advanced placement. Schools have been forced by regulations to respond by giving even the youngest students frequent standardized assessments. In schools across the nation homework has increased, curriculums have become more rigid, there are widespread cutbacks in physical education and sports programs and even recess has become a thing of the past.
In the last two decades, the education system has become obsessed with a quantifiable and narrowly defined kind of academic success, these experts say, and that myopic view is harming boys. Boys are biologically, developmentally and psychologically different from girls and teachers need to learn how to bring out the best in every one.
Our first born is a girl, relatively calm, consistent and at times contemplative. Our boy, on the other hand, is a bundle of kinetic energy who jumps from one thing to another effortlessly. I am a member of a growing body of parents that are concerned that boys are being forced to fit a failing approach to education that is better suited to girls.
In elementary-school classrooms, where teachers increasingly put an emphasis on language and a premium on sitting quietly and speaking in turn, the mismatch between boys and school can become painfully obvious.
"Girl behavior becomes the gold standard," says Raising Cain coauthor Michael Thompson. "Boys are treated like defective girls."These new pressures are undermining the strengths and underscoring the limitations of what psychologists call the "boy brain", the kinetic, disorganized, maddening and sometimes brilliant behaviors that scientists now believe are not learned but hard-wired.
In Montessori schools the children learn through interaction in the environment, learning environments that Dr. Montessori designed as "scientifically planned and methodically formed". The teacher is a guide, and a part of the learning environment. The materials are not visual aids for the teacher, but rather tools for the students. In this same book cited above and written in 1946, Dr. Montessori was both prophetic and insightful, even for today. She said that activity in schools: … must form part of education, especially today, when people seldom walk but go in cars or vehicles of some sort, so that there is a tendency to paralysis and sloth. Life may not be cut in two, moving the limbs for sport, and then the mind for reading. Life must be one whole, especially at an early age, when the child is constructing himself.
Kathy Stevens, co-author of The Minds of Boys: Saving Our Sons From Falling Behind in School and Life, backs up claims that there is a "crisis in male education." "Boys have a 'biological imperative' to move more," Stevens says, "because they have 15 percent more spinal fluid." "Their body is really an extension of their brain". "Boys are unable to follow directions as well as girls do." she says, "Boys get identified from the get-go as behavior problems, ADD. Maybe he's just a boy and he can't just sit still." Most teachers believe if the children are sitting quietly, good teaching must be happening. "That's absolutely false," she says. "How quiet the classroom is has nothing to do with how much learning is going on." She says it's important to create more experiential lessons and to make sure kids participate in activities like recess, music and art.
In Real Boys: Rescuing Our Sons from the Myths of Boyhood, author and psychologist William Pollack presents his findings from almost 20 years of clinical work and his recently completed study examining contemporary boyhood and the ways boys manifest their social and emotional disconnection through anger and violence. He stresses that changing teaching methods to accommodate boys does not mean hindering girls. Girls, he says, often enjoy the same hands-on activities. "We have the data about learning-style differences and behavior-style differences," he says. "This is not a win-lose circumstance. It's not teachers against parents, parents against schools, boys against girls. It's a win-win. We recognize what we now know and use it."
"By addressing who a boy really is and what he really needs, a school can make a difference in helping him do well academically, feel positive about himself and develop a healthy sense of masculinity. A positive school experience, in short, can bolster a boy's self-esteem." "Boys have a unique learning style that is different from that of girls. Research suggests that, whereas many girls may prefer to learn by watching or listening, boys generally prefer to learn by doing, by engaging in some action-oriented task. I've observed boys who are so resistant to reading books in class that they'll literally toss them aside to pursue more hands-on activities. I've also seen boys who, though identified as "lazy readers," became active, proficient readers when given material on subjects that interested them, such as sports, adventure stories and murder mysteries. Most critically, I believe we must make absolutely sure that for every boy there is a "good fit" between what makes him thrive as an individual and what his school actually provides for him."
He could easily be making a case for the method of teaching at a Montessori School.
Paul Raymond is the Head of Quest Montessori School and a Montessori educator for over 30 years. Quest Montessori is now celebrating its 9th year and temporarily housed at the South Road School in Wakefield while it builds the first architect designed Montessori School in Rhode Island that will open for the  2012-13 school year in the North End of Narragansett.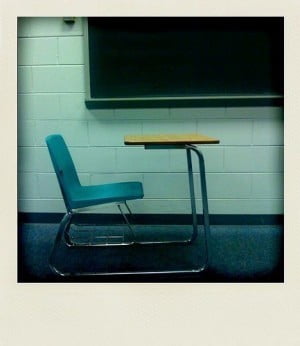 Mind Shift – How we learn
This week, we feature the most popular posts of the year on MindShift. This one, which seems most apropos to review on the eve of 2012, took the top spot.
Inspired by Sandy Speicher's vision of the designed school day of the future, reader Shelly Blake-Plock shared his own predictions of that ideal day. How close are we to this? The post was written in December 2009, and Blake-Plock says he's seeing some of these already beginning to come to fruition.
1. DESKS
The 21st century does not fit neatly into rows. Neither should your students. Allow the network-based concepts of flow, collaboration, and dynamism help you rearrange your room for authentic 21st century learning….
Hello and thank you for visiting our website!
We hope you enjoy the Quest video.  We think it really captures our school at its best.  If you would like to visit Quest, please call or email to schedule a visit.  We would love for you to see our school in action.  It's truly an amazing place!