The Quest New Home Campaign
---

The Montessori Approach: Collaborative Learning
What is Montessori Education?
Multi-Age Classrooms
Individually-Paced Learning
Teachers as Guides
Integrated Curriculum
Prepared Environment
Montessori Materials
Applied Learning
Intrinsic Motivation
Self-Directed Learning
Friendships, Life Skills and Community
At Quest Montessori School classrooms consist of cross-age, cross-grade groupings in three-year developmental cycles. Children as early as 18 months to age 3 begin in our Toddler Program. The early childhood program is called the Children's House and is a group of 3 to 6 year olds that includes the Kindergarten. Lower Elementary of 6-9 year olds is the mixture of conventional 1st, 2nd and 3rd grades. The Upper Elementary, 9-12 year olds, is the equivalent of 4th, 5th and 6th grades. Our Adolescent Program currently has 7th and 8th years, but will eventually grow to include 12-15 year olds who leave the school at the end of 9th grade.
In these groupings children internalize what they have learned by teaching the younger children and by being mentors and role models. The children are encouraged to show mutual respect and empathy for others by working together towards common goals. This is the spirit of the community. The mixed age community creates conditions that foster individual differences as strengths, and promotes groupings of mixed abilities. The collaborative learning process facilitates the development of social skills as a response to informal group interactions, rather than through direct teaching intervention.
Children in Montessori classrooms have a rich variety of opportunities for learning not afforded them by more conventional schools. In addition to specially designed materials for independent learning and teacher lessons, the educational process in a Montessori classroom is supplemented by role modeling, peer tutoring and an inherent collaborative learning structure that is superior to traditional whole-class teaching in terms of both learning and the social climate that they support. The key component of a Montessori school, learning from peers, achieves academic success through the internalization of behaviors and ideas of collaborators in a motivating social context. The Montessori method of education clearly is a design that suits the nature of the child at this age in how they learn and develop.
Children's House
---
3-6 Year OldsFor the young child, learning is a process that involves all the senses. Dr. Montessori created enticing materials for children to manipulate, and through their exploration, understand higher-level concepts, develop innerdiscipline and foster their natural curiosities. She discovered that given the proper amount of guidance and freedom, children develop a positive sense of self and their community.
The activities in the Primary Program fall into four major areas: practical life, sensorial, language and mathematics. Music, art, science, gardening and physical education are also part of the daily curriculum. Children develop self-discipline and capacity for total concentration. Respect for others, courtesy and grace develop naturally as the children grow within the Montessori environment.
Lower Elementary
---
Grades 1-3In this mixed age classroom an interdisciplinary curriculum stresses connections between different study areas. The teacher uses "Great Lessons", which lay out a general organization for knowledge, then invites the children to investigate details and relate them back to the whole. Impressionistic charts and evocative materials give a sense of the size and age of the observable universe, the steady progression of life on Earth, the variety of terrain and climates on our planet, and the saga of human evolution, invention, and civilization.
The classroom environment meets both the social and academic needs of the child Social skills are taught and practiced and group learning encourages individual contributions, listening, and the ability to compromise.
Upper Elementary
---
Grades 4-6Children at this age become abstract thinkers and the curriculum responds to this developmental characteristic. Students are presented a challenging interdisciplinary curriculum with a key emphasis on project work that moves from the concrete to the abstract. Class trips include overnight experiences at Plimoth Plantation and Camp Hi-Rock. Sixth-grade students plan and implement a 4 day trip to New York City incorporating their study of Fundamental Human Needs. Upper Elementary students extend their studies and go out into the community to use what they have learned. This may come in the form of putting together a science fair project, interviewing a university professor, or planning a group trip to a local historical site. Community service rounds out their Upper Elementary Experience.
Middle School
---
Grades 7-8The Middle School serves as a bridge to the conventional high schools that most of our graduates attend and although it shares many features with the younger classes, it is also a distinctive environment. The academic program at the Middle School level is rigorous: a thorough grounding in algebra; scientific studies in physics, chemistry, biology; language work in a variety of written forms, with frequent oral presentations; and a comprehensive humanities curriculum focused on novel study with a wideranging survey of history, Western culture, and social studies.
The daily schedule at this level begins to resemble a conventional school in many respects: teacher specialists for different subject areas, specific classes at specific times, regular homework with graded assignments and tests.
The Benefits of a Montessori Education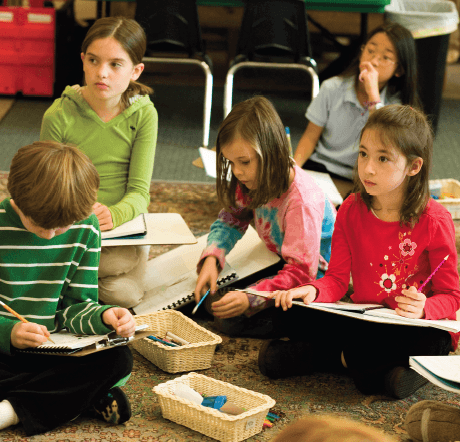 Independent Learners
At Quest the child is able to choose his or her own work, direct their own progress, complete the work on their own timetable, and seek help from other children and adults when they need it. The student planner and weekly conference facilitates the independent learning process.
Confidence and Competence
At Quest each child is taught a system to manage their work with a clear sense of purpose and organization. Through observation, reflection, and discussion they receive ongoing feedback, much of which is constructive and positive, building self esteem and the ability to self correct.
Autonomy
Through daily living and working in a collaborative approach to learning the child finds community membership can be both personally satisfying and socially rewarding. There are ample opportunities for inclusion in the work of others as well as appreciation for the freedom to create and control one's own work.
Intrinsic Motivation
Strong emphasis on independent learning creates intrinsic motivation. The child engages in continuous study and exhibits satisfaction in the process. Children achieve levels of competence and often revel in their mastery by showing others.
Adept at Handling Guidance
Rapport and relationships that grow over the three year cycle enable the child to accept the "ground rules" of the group. The child recognizes the appropriate way in which to comport himself/herself with other children and the classroom teachers.

Socially Responsible
The community based approach to learning integrates the independent and autonomous aspects of learning with group study. This solicits collaboration and cooperation. The mixed age community creates conditions that foster individual differences as strengths, and promotes groupings of various abilities. These ongoing experiences develop social skills as a response to conditions, rather than through direct teaching intervention.
Academic Preparation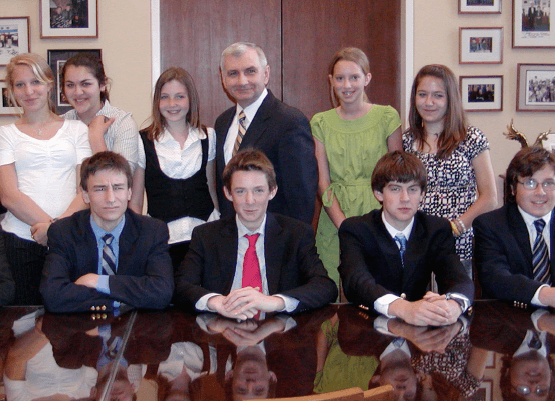 Quest implements a well-developed, clearly-defined interdisciplinary curriculum which knows, understands, and responds to the needs of each child in a developmentally appropriate way. Highly structured, (each child has a personalized "lesson plan" daily), it is the very structure of each environment at Quest that allows for the intellectual freedom and exploration which characterizes the Montessori classroom. Quest encourages its students to work in small groups, to read from a variety of books in the library, to keep journals, and to learn scientific and mathematical concepts by solving concrete problems. The Montessori approach has a breadth of content that ensures the child has the richness of scope and understanding to interrelate and apply knowledge. Specially designed, concrete materials constantly engage the children in their own learning, allowing each to learn – and to understand – by doing.
Citizens of the World
A well-rounded citizen must not only have an intelligent understanding, but also a sense of social responsibility and strong moral character. In the Montessori approach, intelligent understanding comes through the study of civics content, and through the perspective of history. The roots of culture emerge in the study of civilizations and the child begins to grasp the significance and interrelatedness of human achievements over time. An appreciation of humanity is awakened through knowledge of human history. As the child recognizes the essential elements of culture and then acquires these characteristics, the child simultaneously learns how an individual's actions affect others, a key element in socialization. Character development is integrated into the Montessori learning process. Moral development is about both the self and the connection of one's actions and healthy relations with others. A strong moral character grows from the self discipline and civility necessary to be a participant in the Montessori classroom community. Although the modern definition of civility refers to politeness and courtesy, the root Latin civilitas,was a term denoting the state of being a citizen and hence good citizenship or orderly behavior. This is our expectation for civility in the Montessori classroom. Through a holistic approach that develops the intellectual, social and moral character of the child, the Montessori method prepares the child for life.
| | |
| --- | --- |
| | Making donations to Quest to help the continue growth of our new home can simply be made by clicking the red 'Donate' link or by contacting the school directly. Thank you to everyone who helped make the dream of Quest Montessori School a reality. Quest Montessori School is a 501(c)(3) public charity and all gifts are tax deductible to the extent allowed by law. |
© Copyright Quest Montessori School