Hello Quest Parents!
We would like to invite you to drop by the school, Friday morning December 9th, 8:00 – 9:00 a.m.
Just a chance to meet and chat with other Quest parents.
Come by and relax with a cup of coffee or tea, and a few goodies as you start your day!
Simply drop off as you normally would then park and pop in through the side entrance
(down the walkway to the right of the main entrance.)
We will meet in the kitchen.
We recommend not mentioning to your child that you will be popping in and we will be very discreet.
Thank you,
Hope to see you there!
Kath Croll Daily
(UE parent of Grace Daily)
Please call or email to let us know if you will join us or if you have any questions,
kath.daily@cox.net or school office 401.783.3222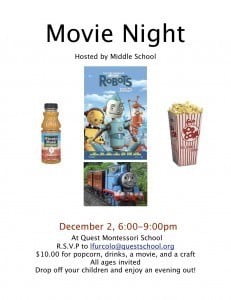 Watch this!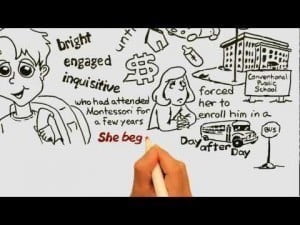 Click here to view a wonderful, short, video about "Why Montessori" Trevor Eissler \"Montessori Madness!\" – 321 FastDraw