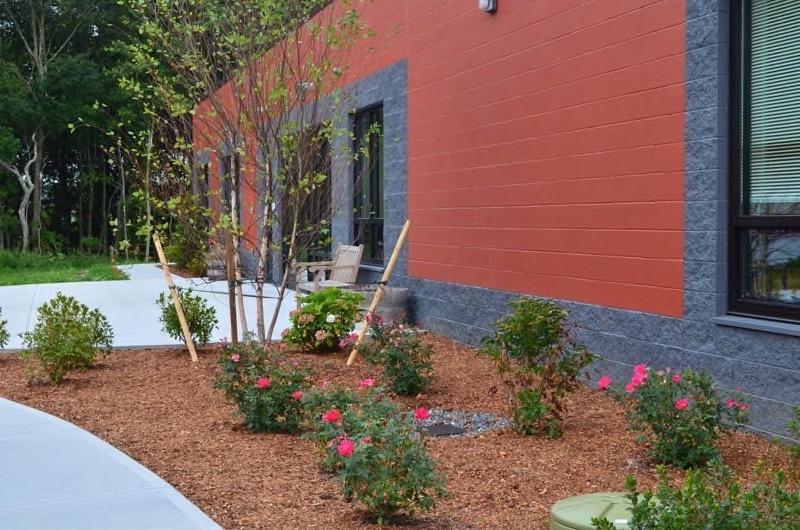 The location of Quest's home is a six-acre wooded property just a short walk from beautiful Narragansett Bay. Conveniently located off Route 1a/Boston Neck Road. The site features fields and is located near town recreational facilities.
Our 12,500 square foot home features a high-quality, individually paced Montessori curriculum and much more.
Our school provides ample space for programs at every level, and it allows us to enhance activities and introduce services we haven't been able to previously offer. Students benefit from having a larger space and a more open environment to better facilitate opportunities for growth and education, along with greater faculty/student/parent interaction. The classrooms accommodate permanent and more involved learning activities such as long-term science experiments and art projects.  As well, we now have the opportunity for exciting summer enrichment programs.  Quest's location offers an ideal mix of woods and fields and provides an excellent opportunity to study the ecosystem and wildlife right outside our classrooms.
Making Our Vision a Reality
Our school facility provides a framework upon which we as a community can realize our vision.  Our home allows us to create an environment specifically catered to meet the needs of an authentic Montessori school.  We have worked to design an open, flexible environment with lots of natural light to meet the unique needs of our community.
The undeveloped status of the property where Quest has been built and the bounty of resources in its immediate vicinity gives us the best of all worlds. We have had a virtually blank slate from which to design—the building plan for both the interior and exterior helps unify the beautiful landscaping of the outdoors with the creative environment of the indoors.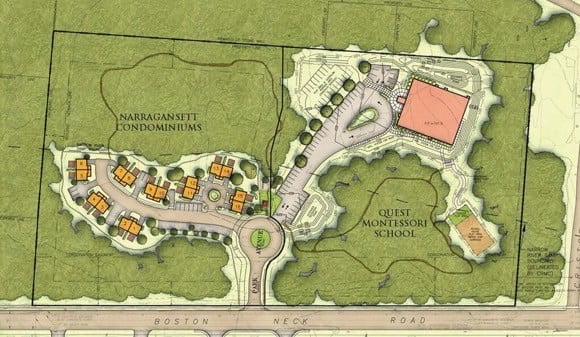 The History behind the building of Quest Montessori School
Since quickly outgrowing its first home of 3,000-square-feet of donated space in Exeter, Quest Montessori leased space at the beautiful Canonicus Campus in Exeter for five years. However, Quest outgrew this space shortly after moving in and the need for permanent space has become pressing. After three years of searching for the right location, Quest identified several potential sites to build the state's foremost Toddler to 8th grade Montessori school.
As early as 2006, a comprehensive plan was formed, but Quest needed to find affordable financing for the $2.75 million development project—no small task in this economy.
When Quest first bid on the Narragansett property in 2007, the school had identified a rural development loan as a potential source of funding. Unfortunately, the school was unable to secure the loan in time, and the school's offer was turned down due to financing delays.
At the time, a call to raise funds for the down payment generated nearly $33,000 with another $11,000 in pledges in less than a month. The funds represented support from individual donors, including board members, staff, parents, grandparents and members of the extended community. Although Quest did not succeed in its first bid to secure that site, all the donors generously renewed their commitment and made the funds available for a continuing search.
It was a long search, and several potential sites had come and gone in the interim. The funds initially raised had underwritten the search, including paying for expenses related to the loan application process and due diligence to determine whether sites were a good fit for Quest. Remaining funds went toward the renovation of the building.
Thanks to the low-interest loan from the USDA Rural Development Program and the support of our families, we have been able to expand into a more flexible, integrated, thriving educational environment, while keeping our tuition affordable.
In early Spring of 2011, Quest officially secured the Narragansett property through the USDA Rural Development Program.
For the 2011-2013 academic years, Quest temporarily found a home in South Kingstown at 1157 South Road, the former location of South Road Middle School.
Quest Montessori now resides in its new school facility at 1150 Boston Neck Road in Narragansett.