Raising Your Child to Be a Lifelong Reader
Children enjoy books for loads of reasons. They read to become smarter about the world and how it works. They read to broaden their vocabularies and to become better readers-faster and more fluent, purposeful, engaged, critical, and satisfied. They read to stretch their imaginations, to escape to other lives, times, and places. They read to become knowledgeable and compassionate toward the range of human emotions. In The Reading Zone: How to Help Kids Become Skilled, Passionate, Habitual, Critical Readers, Nancie Attwell states, "There is no more important homework than reading. Research shows that the highest achieving students are those who devote leisure time to reading, even when the school day and year are only mid-length and homework isn't excessive. Recently, the largest-ever international study of reading found that the single most important predictor of academic success is the amount of time children spend reading books, more important even than economic or social status. And one of the few predictors of high achievement in math and science is the amount of time children devote to pleasure reading."
So how do we create young readers who will return to books again and again? Over the years, countless studies have proven the importance of emphasizing reading in the lives of young children. The benefits are numerous and varied, and you can learn about just a few of them here. You have no doubt heard the advice before, but here are four simple steps to raising an avid reader.
Read Aloud to Your Child
It is never too late to start reading to your child. Babies begin to learn early language by hearing a parent read. Toddlers and preschoolers increase their vocabulary, which helps them excel in the classroom. Elementary-aged children can listen to your voice to learn about fluency, pace, inflection, and emphasis as they begin to read aloud. Even preteens and young teenagers stand to benefit from reading aloud if they'll still let you, and may will. Taking time to sit and read together as your child gets older is an opportunity for bonding and often becomes the gateway for comfortably discussing a wide variety of topics.
The key? Make reading aloud part of your routine. Many families squeeze it in at bedtime, but find a time that works for you. Mixing it up can keep reading fun. Explore picture books and chapter books, Caldecott and Newbery winners, or delve into an author study. Spend the summer working through a "family reading challenge" or pull friends and extended family in to create your own book club.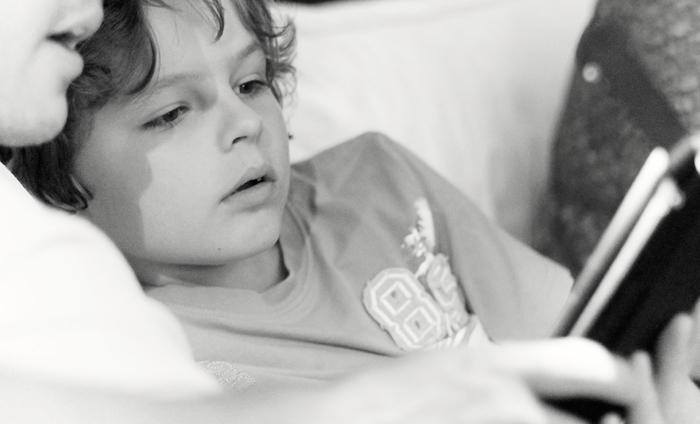 Let Your Child See You Reading
Specifically, let your child see you reading for pleasure. As a busy parent, it can be easy to let enjoyable reading slip to the wayside, but modeling the habit will help instil it in your child.
One simple way to make this happen? Set aside some family quiet reading time on the weekends. Everyone can get comfy, gather up their books, and sit together while doing their own reading. This may be tough to do in the beginning, especially for little ones, but with some practice you may all come to love this special ritual.
Support Their Gradual Independence
As your child moves into the elementary grades, they should begin reading aloud to you or to themselves for 20-30 minutes each night. As with any other skill, this doesn't happen overnight, and takes lots of support and incremental steps toward independence.
If your child isn't reading yet or is resistant to reading, don't push it. The goal is to keep reading fun. If you have specific questions about your child's progress, their teacher is your best resource.
If your child is starting to read on their own, take it slow and don't expect too much at once.  Some ideas:
Read a familiar book (rhyming books work best for this). Point to the last word on a page without saying it and let your child chime in.
Take turns. To prevent fatigue, try alternating pages. You read a page, your child reads a page, and so on.
Utilize a combination of read aloud and read alone time. You may read one picture book or a chapter, then send your child off to bed to read to themselves until it's time to go to sleep.
Designate specific read aloud and read alone days of the week.
Remember that everyone has tired and grumpy days. Sometimes we all need a break!
Another great way to support early readers is to suggest strategies or point out when you notice they are using them. Pictures can help us figure out words we don't know. Breaking a word into chunks is another helpful strategy. Asking ourselves, "Does that make sense?" is a good idea. Even the act of noticing when we've made a mistake, and going back to reread is the sign of a great reader.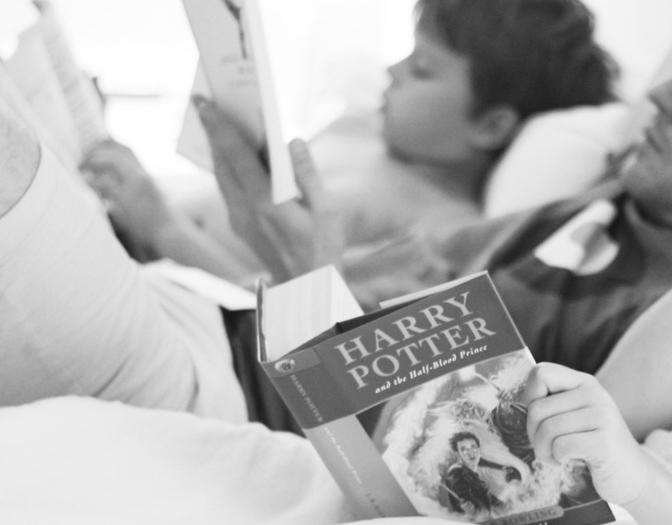 Help Them Discover Books They Love
The best way to raise a reader is to surround them with books they love.
Some parents may balk at this. After all, do we really want to encourage those books about bathroom humor, or graphic novels that have more illustrations than words? Yes! We do! Many graphic novels today and visually stunning but also great examples of a newer style of literature. As for the potty joke/unicorn puppy/tv character books? Treat them like you might treat candy. Explain to your child that we all enjoy a little junk once in a while and that's okay, but we need to balance our reading diet just like we balance our food diet. Ultimately, it is better to have your child exploring a book that they enjoy than no book at all. There is plenty of time for their taste in literature to become refined.