Discover Our Lower Elementary Community
Our elementary program comprises two multi-aged classrooms: Lower Elementary and Upper Elementary. These groupings provide a heterogeneous mix in which children can collaborate and socialize. These inter-age relationships strengthen the entire community.
Elementary-aged children are full of awe and wonder about the world in which they live. Quest's Elementary program inspires a love of learning by going beyond the usual goals of skill development and addressing the development of the whole person. As at all Montessori levels, the Elementary program is based on the belief that children learn best through movement and work with their hands, and provides cognitive, social, and emotional support to help them reach their full potential.
The Elementary program presents children with a full range of educational disciplines, including mathematics and language, as well as the arts, sciences and social sciences.The materials and exercises for each discipline area help children build a conceptual order, and classification materials associated with each discipline help children construct a mental order.
The Montessori elementary core curriculum has three major elements:
An integrated curriculum using Montessori's Five Great Lessons
Mastery of fundamental skills and basic core knowledge Individually chosen research
The elementary curriculum uses Montessori's Five Great Lessons as its major themes. Because of its logical sequence, Montessori elementary education demonstrates how each particle, each substance, each species, and each event in the universe has a purpose and a contribution to make in the development of our universe. This philosophy allows the child to feel a sense of interconnectedness and gratitude about the world in which he lives. It is this understanding which leads to an intrinsic love of learning and contribution.
Rather than following the traditional approach of presenting facts as belonging to individual subjects, we use the Great Lessons to present a holistic vision of knowledge, building the subject skills into each topic or theme. Reading, writing, geography, science and history are all studied in terms of these larger, cultural contexts. We take the children from the whole to the parts and back to the whole again.
The three years of Lower Elementary are considered to be the "period of construction," when the child is increasingly interested in understanding the causes of the phenomena they see around them. They begin to develop a strong moral sense and demonstrate an interest in culture and social constructs. Lower Elementary classrooms meet these needs by introducing expansive opportunities for reading and writing, extended projects and more engaged group activities.
Mastery of Basic Skills: Montessori Materials and Beyond
The Montessori mathematics materials and manipulatives are widely acclaimed and used worldwide in both public and independent schools. In the Lower Elementary program, these materials are used to provide the child with concrete visualizations of the four basic operations, algebraic concepts, and an introduction to fractions and geometry. The use of these materials in small group lessons allows each child to progress at his or her own pace.
Hands-on materials are used in every other aspect of the curriculum as well. There are materials for the study of language and grammar, scientific classification, geography, and much more.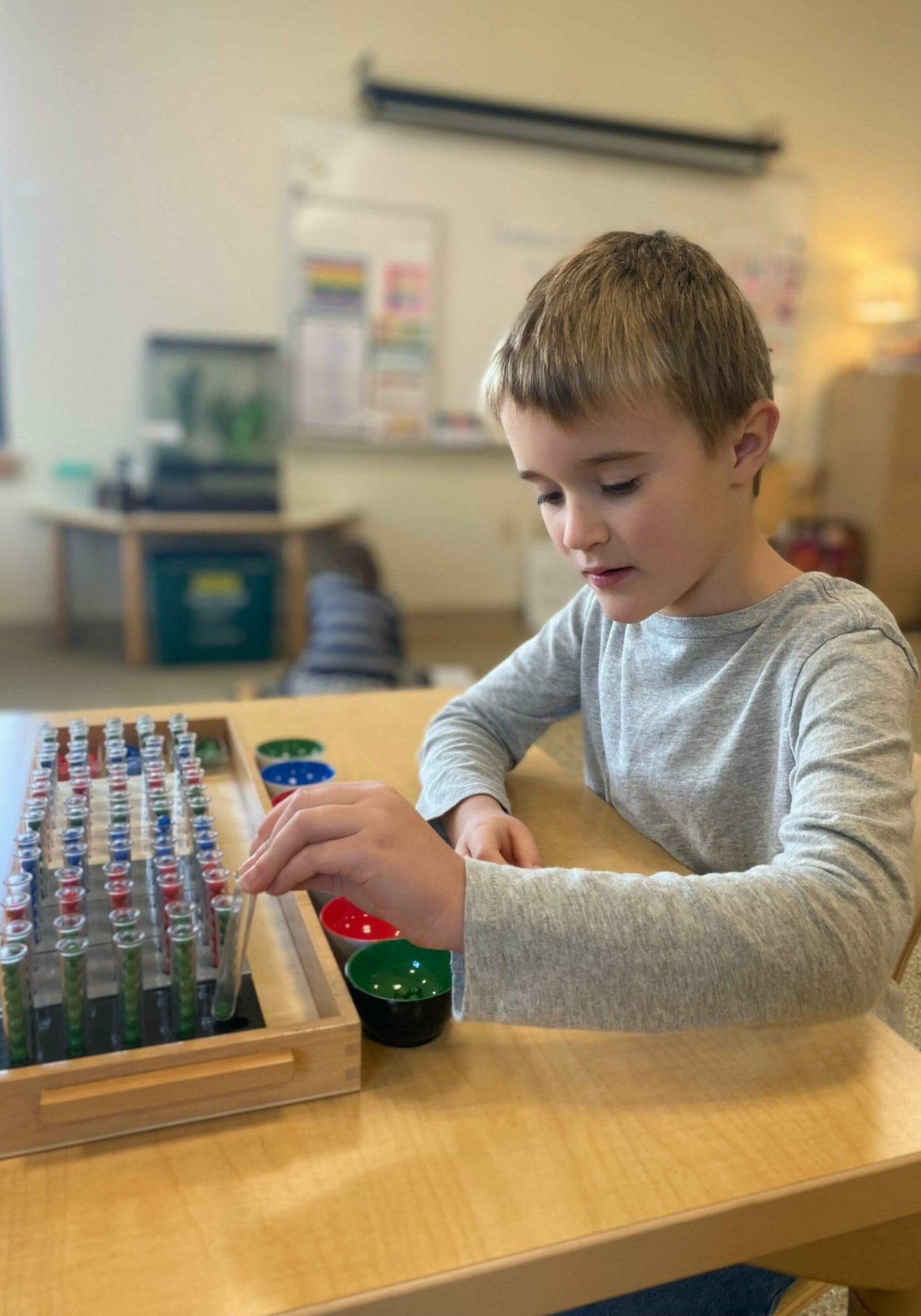 Individually Chosen Research
Elementary students are encouraged to explore topics that capture their imagination. As the mind, will, and self-discipline develop, it becomes possible for the children to undertake ambitious projects requiring the integration of knowledge from across the curriculum. Students often work together, using well- developed collaboration skills.
Lower Elementary Topics and Skills
Language
Learning to Read: Sound/symbol relationships (phonetic reading), sight words and contextual clues (reading fluency), reading comprehension, vocabulary/spelling, introduction to research and reference materials
Language Skills: Word study, parts of speech, parts of the sentence
Communications Skills: Listening, storytelling, shared literature, oral presentations
Writing Skills: Handwriting (print and cursive), fiction and non-fiction writing, the writing process (drafting, revising, editing, publishing)
Mathematics
Numeration: Numerical quantities, numerical symbols, place value, even/odd, concept of zero, rounding
Computation: Addition, subtraction, multiplication, division concepts and operations, memorization of math facts, exploration of numerical patterns
Fractions: Concept of fractions, naming/vocabulary, equivalence study, operations with like denominators, intro to mixed numbers
Measurement: Linear (standard and metric), time (analog, calendar), money (value, adding, subtracting), temperature, weight
Geometry: Hands-on exploration of shapes (lines, angles, plane figures), congruency, similarity, equivalence
Problem Solving: Word problems and critical thinking problems, estimating, graphing (bar, line), patterns and relationships, games
Cultural Studies
History: Time (calendars, clocks, timelines), creation myths, evolution, pre- history
Science: The Big Bang theory, origins of the universe, three states of matter, energy, laws of attraction and gravity, sun and solar system concepts, the Five Kingdoms of Life, external and internal parts/body functions of plants and animals, classification and nomenclature
Geography: Continents, land and water forms, countries, capitals, flags, map skills
Quest involves children in the larger community in which they live and go to school in.