Middle School (Grades 7-8)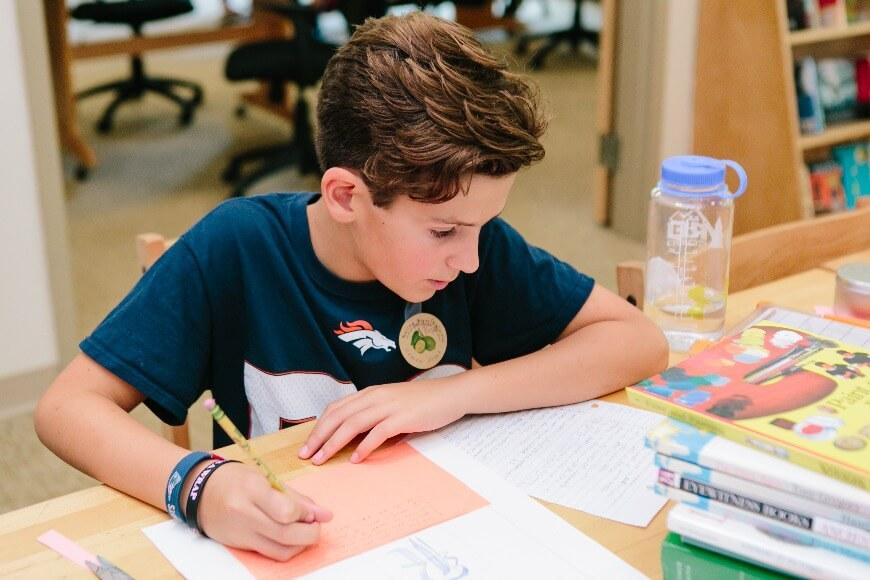 The Middle School serves as a bridge to the conventional high schools that most of our graduates attend. Although it shares many features with Quest's younger classes, it is a distinctive environment. The academic program at the Middle School level is rigorous: a thorough grounding in algebra; scientific studies in physics, chemistry, biology; language work in a variety of written forms, with frequent oral presentations; and a comprehensive humanities curriculum focused on novel study with a wide-ranging survey of history, Western culture, and social studies.  The following breaks the curriculum into three major areas: Science, Math, and Humanities.
Middle School Science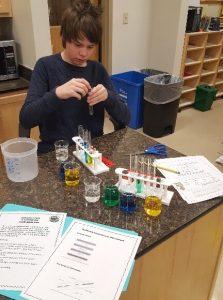 Mission: The goal of the Middle School science curriculum is to teach students to learn the way scientists learn. They explore interesting questions and challenges, reading about what other scientists have discovered, investigating, experimenting, gathering evidence, and forming explanations. Middle School students learn to collaborate with others to find answers and to share their learning in a variety of ways. In the process, they come to see science in a whole new, exciting way that motivates them throughout their educational experiences and beyond.
Curriculum: Students learn within the framework of Project Based Inquiry Science or PBIS. In project-based inquiry learning, students investigate scientific content and learn science practices in the context of attempting to address challenges in or answer questions about the world around them.
Early activities introducing students to a challenge help them to generate issues that need to be investigated, making inquiry a student-driven endeavor. Students investigate as scientists would, through observations, designing and running experiments, designing, building, and running models, reading written material, and so on, as appropriate. Throughout each project, students might make use of technology and computer tools that support their efforts in observation, experimentation, modeling, analysis, and reflection. The teacher supports and guides the student inquiries by framing the guiding challenge or question, presenting crucial lessons, managing the sequencing of activities, and eliciting and steering discussion and collaboration among the students. At the completion of a project, students publicly exhibit what they have learned along with their solutions to the specific challenge. Personal reflection to help students learn from the experience is embedded in student activities, as are opportunities for assessment.
Middle School Math

Mission: The goal of the Middle School math curriculum is to develop sound critical thinking and problem solving skills while preparing students to transition into a more traditional high school level math program.  The Middle School program seeks to meet students where they are when they begin their 7th year.  Students are presented with lessons appropriate with their ability beginning with pre-algebra and covering topics up through and beyond the typical Algebra 1 curriculum.
Textbooks: Students work in 2 distinct books based on level of comfort. The first of the two books is McDougal Littell's Pre-Algebra.  Pre-Algebra provides an excellent gateway to the core concepts and ideas of algebraic study. When ready, students transition into Houghton Mifflin's Algebra: Structure and Method Book 1. This book offers the complete Algebra 1 course and covers all material necessary for preparation for either geometry or Algebra II.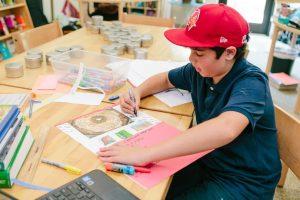 Problem Solving Journal: each Monday students are given a handout with 3-5 word problems/ puzzles. Students are required to solve problems by Friday. Besides solving the problems students are expected to also write a small entry regarding their problem solving process. Correct answers are not required for full credit.
Khan Academy: Khan Academy is an online learning website that students use to maintain their skills throughout the year. Khan Academy combines short video lectures with online quizzes and test. Student can earn points and rewards as they progress through the program. Both students and teacher track their progress throughout.
Homework: Each night students complete an accompanying problem set from the lesson completed in class. A typical homework assignment consists of 20-30 problems and likely takes 30 minutes to complete.
Unit Tests and Quizzes: A typical unit in each textbook is usually 8-10 lessons. Students can expect to have 2-3 quizzes per unit. Upon the completion of each unit, students are expected to complete a written examination covering the entire unit.
Middle School Humanities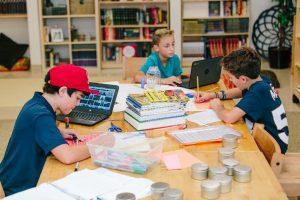 Mission:  Humanities is about investigating what makes us, well, human. How have different groups of people created communities throughout time? How have they expressed themselves through literature, music, and art? And what common threads can we draw between ourselves and people long ago? Students investigate these questions through three different lenses: reading, writing, and history. In the process, they develop critical thinking and writing skills, practice holding informed discussions, and collaborate with their classmates.
Reading Curriculum: Students begin the year with J.R.R. Tolkien's The Fellowship of the Ring and William Golding's Lord of the Flies, as we explore what makes a successful (or unsuccessful) community. Students have the opportunity to discuss their reading in small book clubs, where they practice generating their own discussion topics. They also practice close, active reading and writing reflective responses.  Throughout the rest of the year, students read a variety of novels, poems, and short stories that connect to the history curriculum, including a variety of Native American novels, Sophie's World, Julius Caesar, and an adapted version of The Canterbury Tales. Assessments range from critical essays to creative reflections on what it means to belong to a community.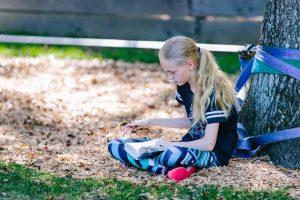 Writing Curriculum: Using a writing workshop model, students focus on each stage of the writing process, from collecting and developing ideas to drafting, revising, and editing written work. The year begins with a personal reflection unit, as students write short memoirs about meaningful events in their lives. Throughout the rest of the year, students examine and practice the basic elements of fiction, poetry, and critical nonfiction, as they again work through the stages of the writing process. Each unit culminates in publication of student work to share with others, and students are assessed on their growth throughout the unit. Students also review essential topics in grammar, and weekly quizzes assess their ability to apply these skills to their writing.
History Curriculum: With a consistent emphasis on what makes a community, students study some of the world's earliest civilizations. After examining the transition from hunter-gatherer societies to settled communities, students learn about the eight features of civilization and study specific features in context, with mini-units in ancient Egypt and Mesopotamia. Students then apply this understanding to a group project, where they design their own civilizations based on historical examples. In the spring students study local Native American tribes, ancient Greece and Rome, and medieval Europe, with culminating assessments at the end of each unit. The course also emphasizes basic skills in notetaking, active listening, and studying, in order to prepare students for the transition to high school.