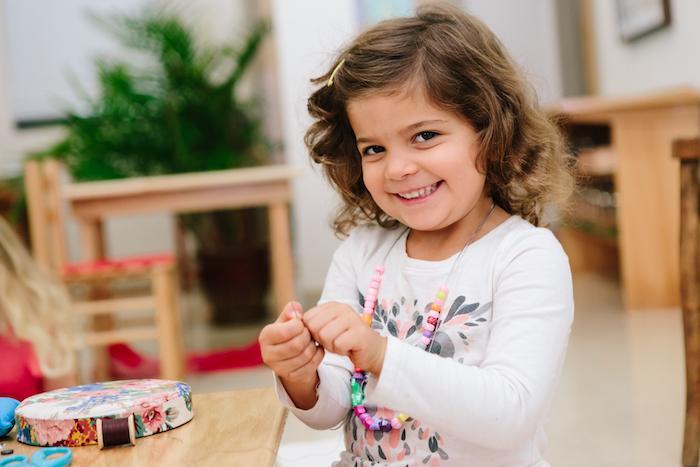 The process of choosing a school for your child is an important one. Most families are eager to understand the differences between Quest and traditional schooling. We have outlined some ket points below, addressed some frequently asked questions and encourage you to schedule a visit to see it all in action.
Why Montessori?
Lets talk briefly about what Montessori is, and why. There are many differences between "traditional methods" and the Montessori Method, but the primary tenants of the Montessori Method are:
Montessori programs work on three-year cycles. Children stay in the same classroom and have the same teacher for three years.
Montessori classrooms have children of mixed ages. Multi-age classrooms encourage cooperative learning and allow for broad emotional and social development.
Because children develop and master skills at their own pace, Montessori students work according to their developmental levels rather than their biological ages.
The primary role of the Montessori teacher is not the transmission of information, but rather to nurture development and to guide activities, resources, and materials that allow the child to take the next step in learning.
Montessori students are always free to move around the classroom instead of staying at desks. There is no limit to how long a child can work on a lesson, and the lessons are taught to one student individually or to a small group.
The Montessori teaching materials are unique. Most were developed by Dr. Montessori to meet specific developmental needs of children of different ages.
Why Quest? 
A Quest Montessori School education provides students of all ages with information in a way they can understand it and enjoy it — learning is fun, empowering, and custom-fit to suit your child's individual learning style.
Quest is proud to be the only school in Rhode Island Accredited by American Montessori Society (AMS) and the Association of Independent Schools in New England (AISNE).
Our program begins at 18 months, recognizing that between the ages of two to six is when most of your child's intelligence and social characteristics are formed. This is also when your child is most receptive, curious, and excited about exploring the world around him or her. Quest's classrooms and educational programs are designed to nurture that excitement and curiosity at every age and stage by offering a variety of materials to stimulate and intrigue your child throughout their educational continuum.
The materials used to teach reading, writing, arithmetic, geography, science, music and social studies are all unique to the Montessori classroom. For our youngest students, these materials are designed to take abstract ideas and put them in a concrete form that makes sense to these developing minds. As they age, the concrete slowly shifts back to the abstract and the experiential learning opportunities become a foundation for skills and curricular application.
Our teachers are accredited at their level and trained to recognize when a child is ready to learn a new skill, and to foster his or her natural instincts and abilities. They are observers of their students, whose primary focus is studying how your child learns, and tapping into those styles with approaches that will work best. Your child is valued as an independent thinker, and encouraged to make choices on his own. Because of the three year cycle, our teachers know their students deeply. They are invested in their success as a student and as a growing child in our community.
Our students learn from their peers and respect their own, and each other's, ability to be a teacher as well as a student. At every level our younger students are taught to bring questions to their older peers first. Utilizing the older students in this way builds trust within the classroom community and also allows for a constant reinforcement of skills. They are encouraged to pursue research projects that will enhance their lessons and foster their natural curiosity for the world around them and they have a role and responsibility in maintaining the health and community of their classroom from cleanliness to cooking. Quest is where each student has a role and job as valuable as the adults they share their days with.
Quest Montessori School is an inclusive, joyful community that ignites self-discovery through purposeful learning. A Quest education inspires children to embrace and challenge the world with curiosity, compassion, and confidence.