UE had an exceptional first term and took full advantage of being at school in-person for all but one week of the semester. We were busy! The children came back in September, ready to work and eager to jump back into in-person learning. In addition to their small group lessons in math, geometry, and language, these 4th, 5th and 6th years were also eager to engage in the class discussions that went along with larger group lessons. 
U.S. History and Government
The Presidential election presented the opportunity to delve into the formation of the United States government and particularly how the Constitution outlines the process for electing a president. The children enjoyed this study and were particularly fascinated by the Electoral College. One of our 6th year students even reached out to the RI state senators to suggest some changes to the system and received an immediate response. Encouraged by  the children's interest in US History, we dug deeper and explored other topics including the American Revolution and the biographies of people who made contributions to American history including Rosa Parks, Ruth Bader Ginsberg and Thomas Edison.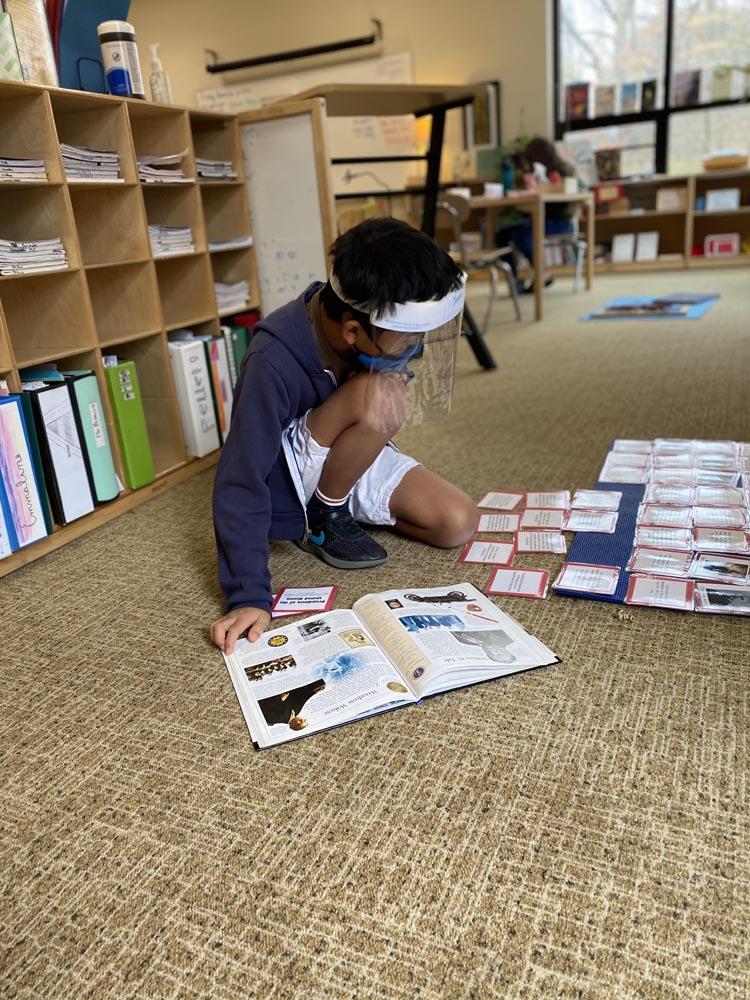 "Who am I" U.S. Presidents Matching: Students use books in the classroom to read about former presidents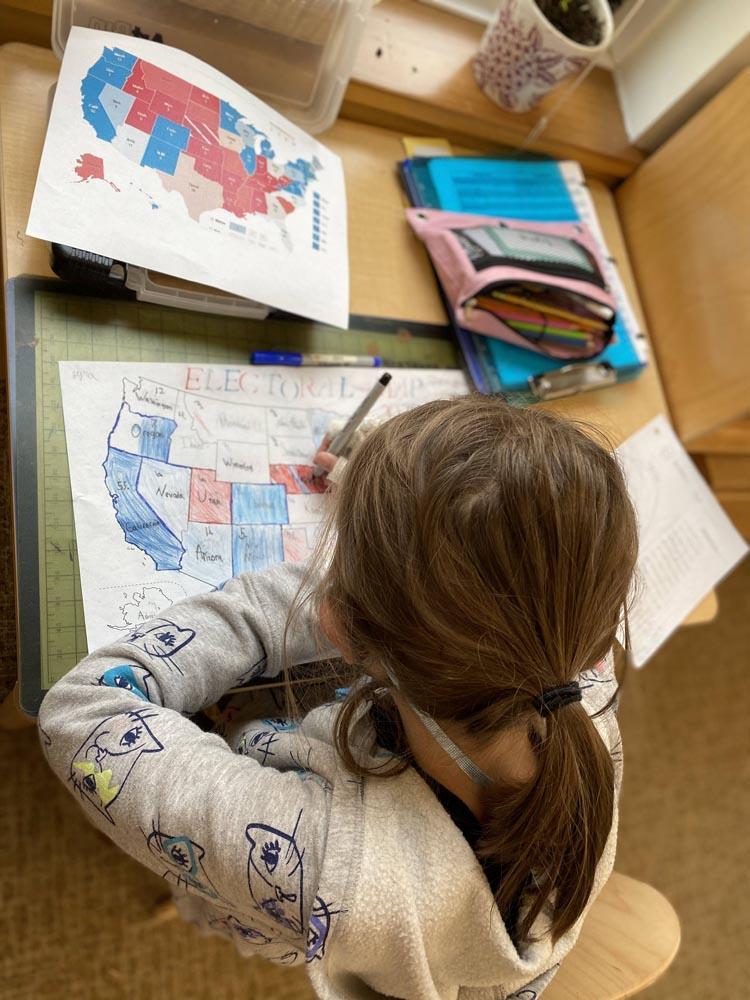 Students filled in a map with the number of electoral votes each state is allotted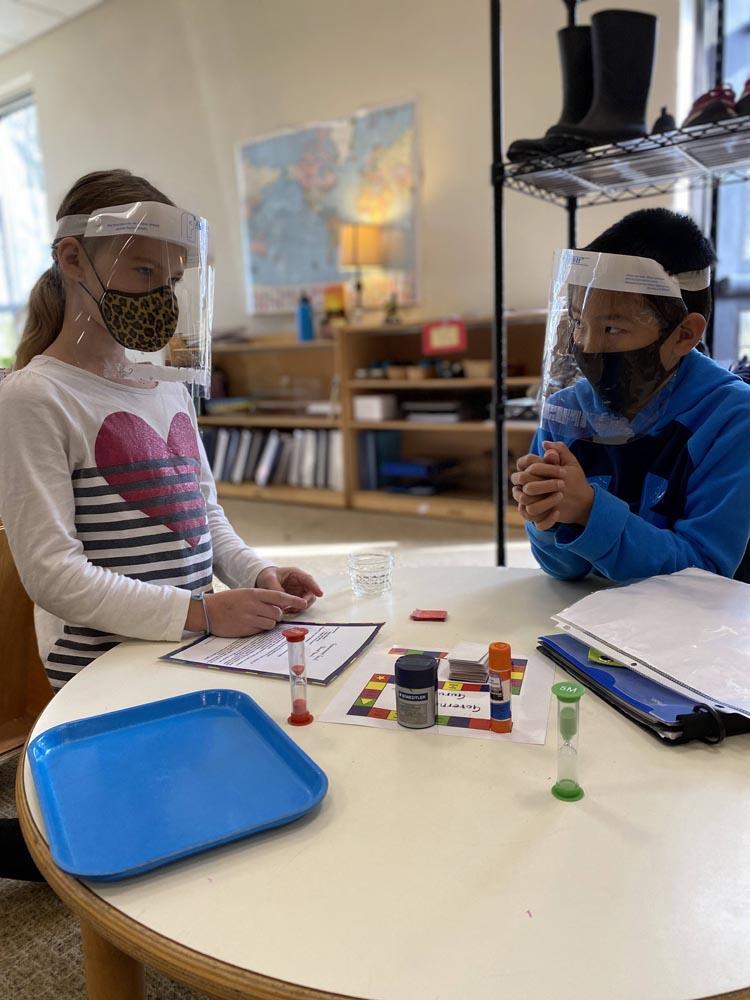 "Government Guru" Students test their knowledge on the U.S. government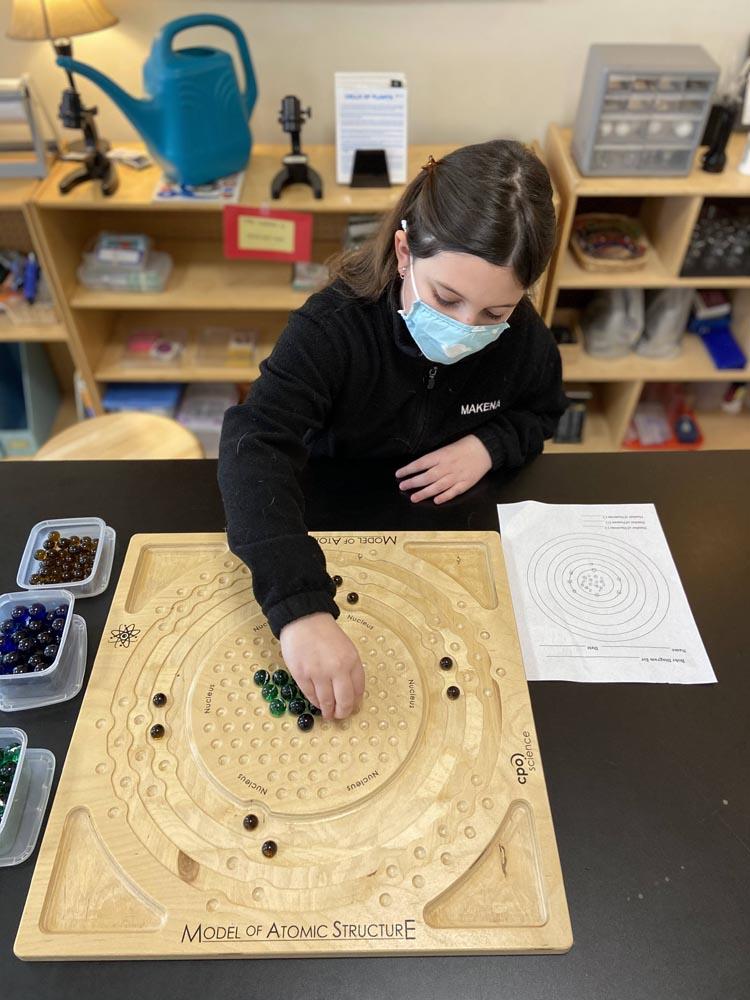 After studying the history of the atom and its parts, exploring the periodic table. Students use a wooden Bohr Diagram Model to construct elements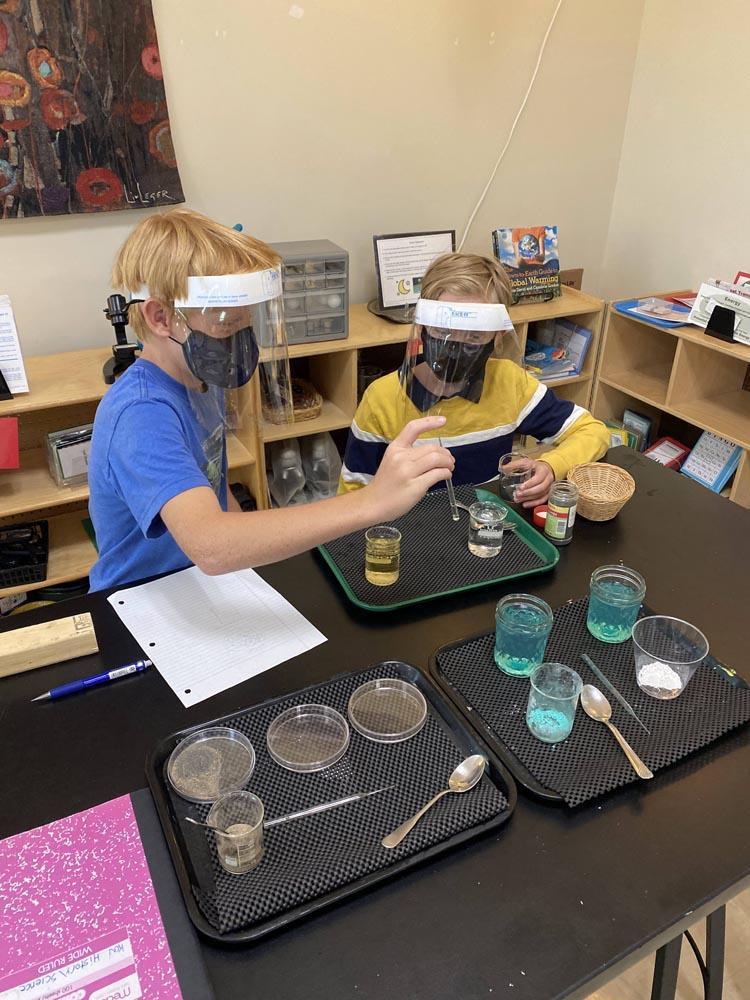 6th year students experiment with mixtures, compounds, saturation, supersaturation, and crystallization.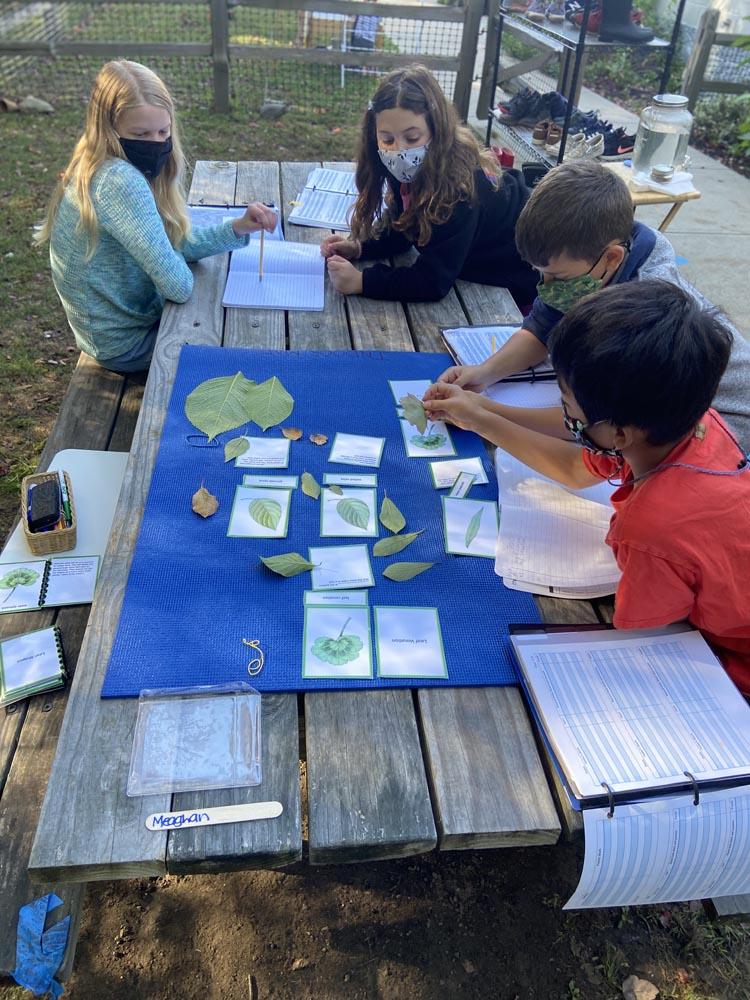 Spending more time outdoors provided lots of time for botany work this fall. Children collected a variety of leaf samples, identified the parts, and classified them based on their type, shape and margin, and leaf venation.
Relaxing with Read-Alouds
In addition to independently reading self-selected books and discussing them in groups, the students love being read to.  While our teaching assistant Healy reads aloud twice a week, the children can draw, knit, crochet or just relax while they listen. Not surprisingly there are often calls for "just one more chapter".  The read aloud books are collectively agreed upon and this year have included: 
The Giver, Lois Lowry
Something Upstairs,  Avi
Restart,  Gordon Korman
Ban this Book,  Alan Gratz
Never Caught: The Story of Ona Judge, Erica Armstrong Dunbar and Kathleen Van Cleeve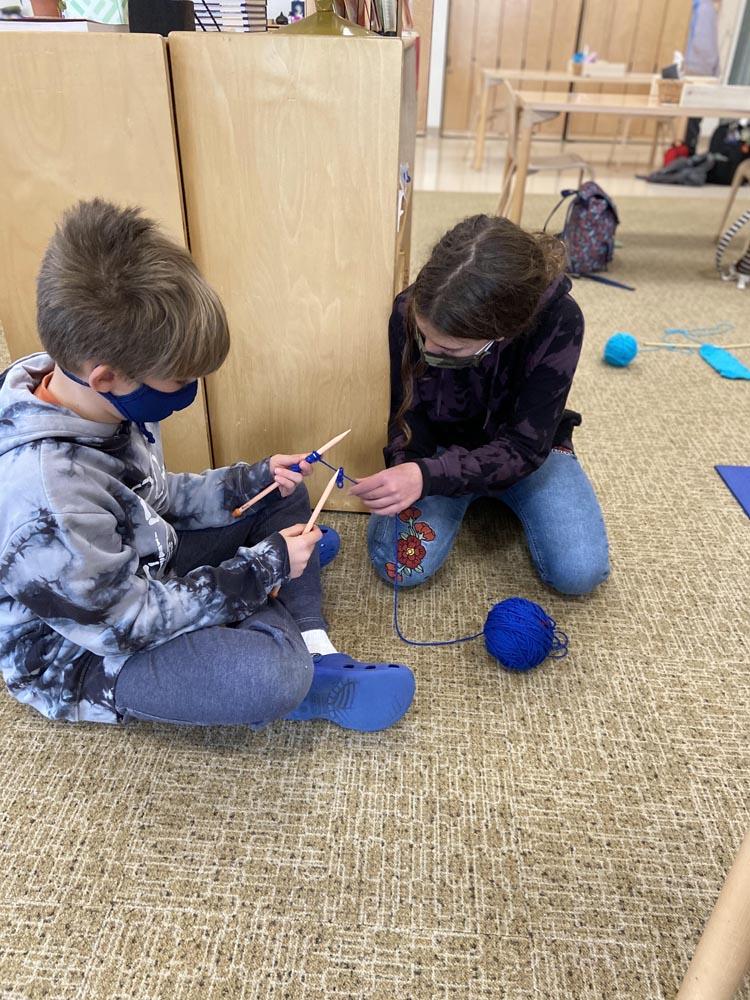 Students knit during read-alouds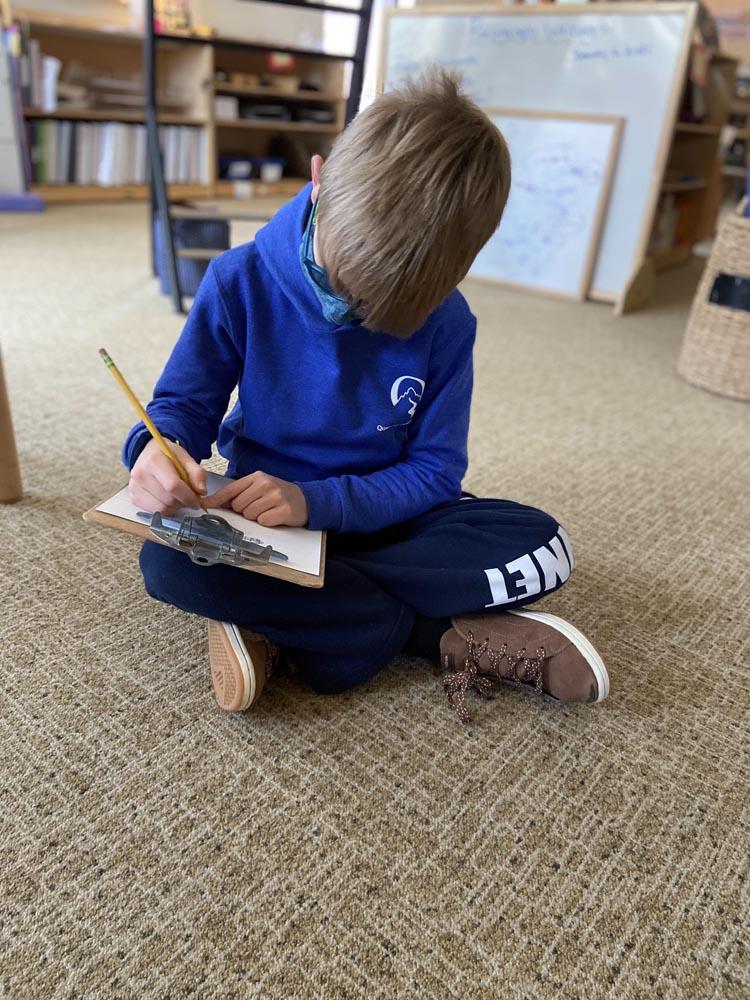 Going Outs
At the Elementary level, children are strongly encouraged to go beyond the walls of Quest and plan "Going Outs" to engage in real world activities. Dr. Montessori said to only include what is  "necessary and sufficient" within the classroom environment to encourage the children to go out and collect what is needed. This year, we've made the most of Going Outs, doing what we can given the COVID protocols.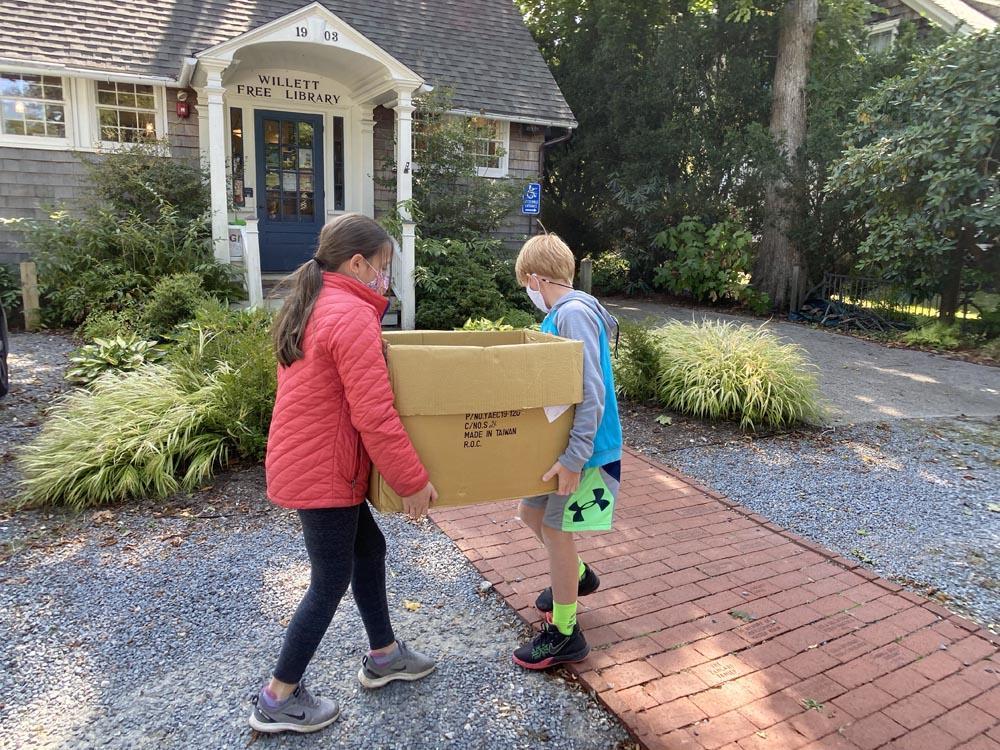 Delivering donated books to Willett Library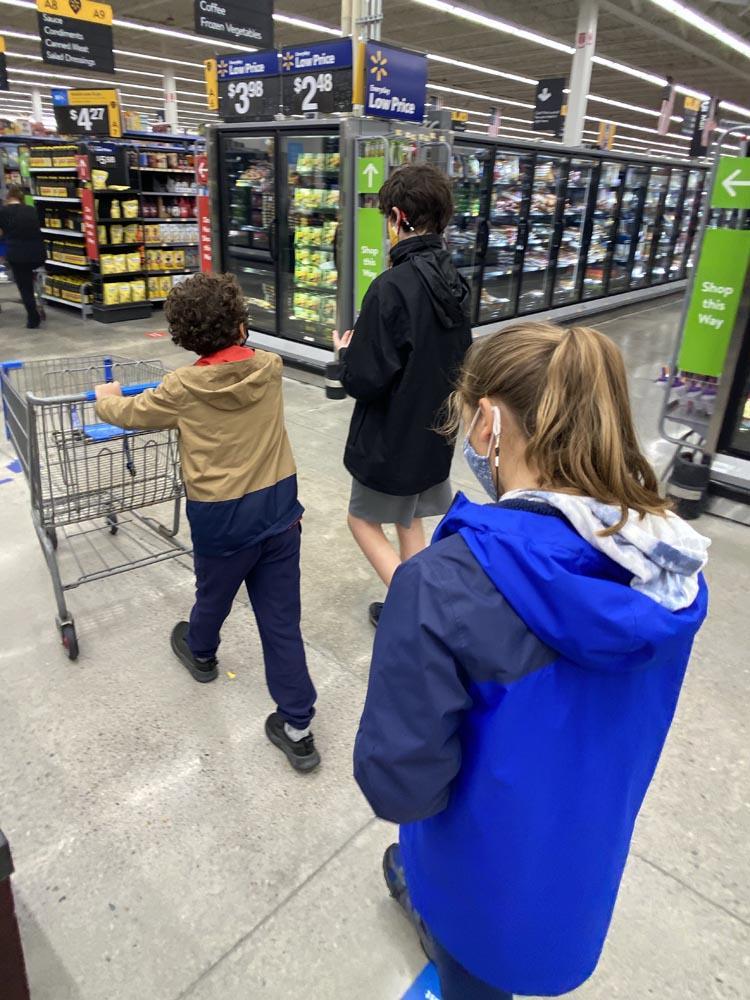 Shopping for materials needed for a water resource project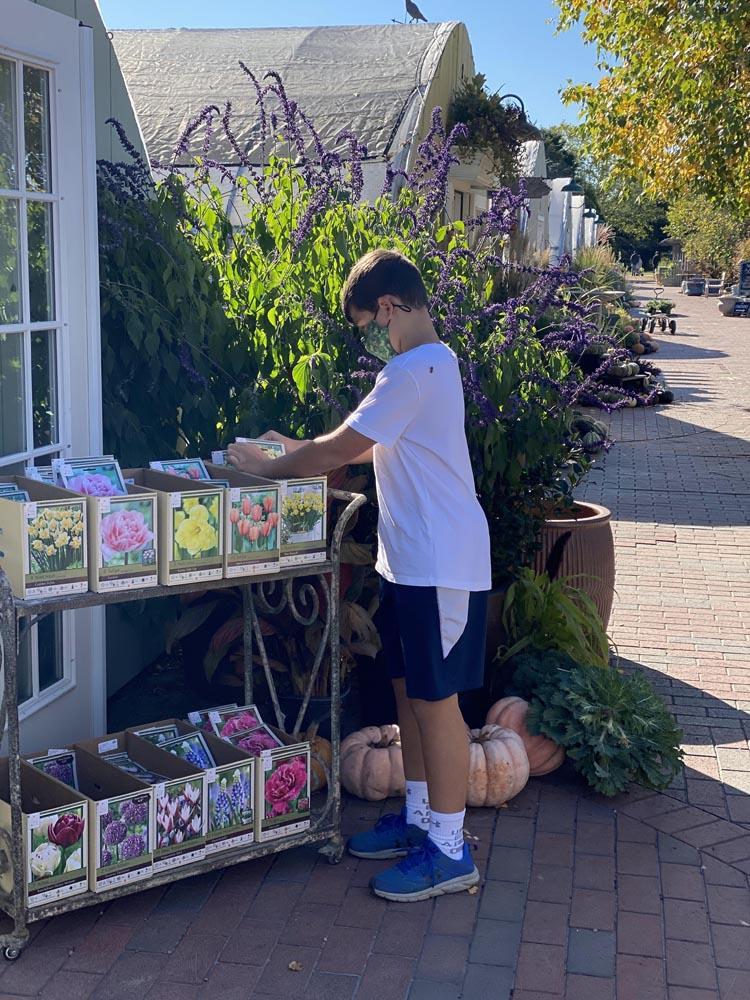 Purchasing bulbs for planting in Quest's community gardens
UE: First Term Slideshow  We've taken several pictures over the course of the first term; here are a handful of pictures we pulled to share with you to give you a glimpse into the Upper Elementary environment. 
What to look forward to in 2021:
Our spring semester looks to be even busier than the fall. This year's ancient civilization study will be China, which with 3500 years of written history, has the most continuous history of any country in the world. The other major studies this semester will be Black History month, the human body and the continuation of botany. 
Up first is a Zoom visit with Dr. Robert Ballard for both Lower and Upper Elementary on Friday, January 22nd.  Dr. Ballard, an oceanography professor at the University of Rhode Island, is  best known for his discoveries of the wrecks of the RMS Titanic, the battleship Bismarck and the USS Yorktown. Students are preparing their questions for Dr. Ballard by reading about some of his most well known explorations . We are all very excited to "meet" him.