Middle School Student Newsletter, 2/28/20
Welcome back to the Quest Middle School Newsletter!
The week kicked off with some very exciting news. On Monday afternoon, halfway through a Humanities lesson, we got a surprise visit from School One faculty member Diana Champa and Goat Hill writers Taylor Polites and Hester Kaplan, coordinators of the Write Rhode Island competition (which, as many of you may already know, is a short fiction competition open to grades 7-12 all across the state. All of the eighth year students took the step of submitting a story this year, along with several of the seventh years.)

So we were all proud and excited when Taylor announced that he and the other coordinators were there to honor not just one, but two Middle School students. 8th year student Delia received a notable mention for her piece Forgiveness, while I was a state winner for my story Different Ways to Drown.  The entire class is happy for the two of us, and we are pleased to represent Quest like this. A big congratulations to everyone who wrote and submitted this year--that step is often the biggest accomplishment of all!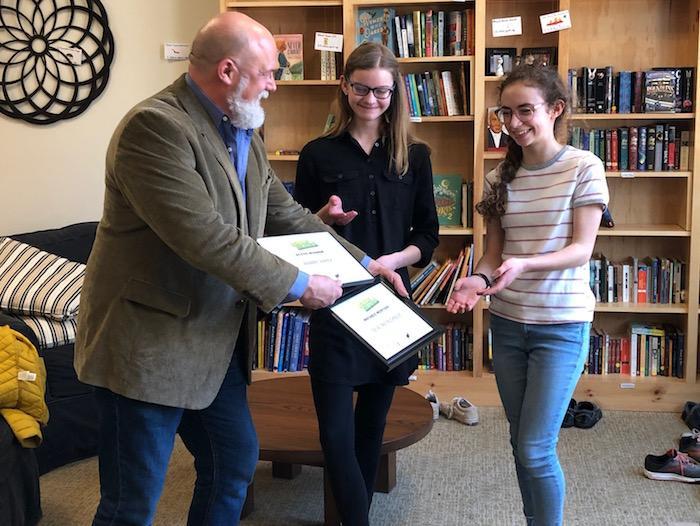 In other news, we had a visit from District 34 House representative and Quest parent Teresa Tanzi this Thursday. After giving us a brief rundown of what her position entails, she answered our many questions about RI's state government. It was a fascinating and engaging Q&A, and we all look forward to when we will see her again during our State House going out next Tuesday.
This week was also our final week of selling pumpkin bread before we depart for March break! We sold to UE, LE, along with staff and our own classmates. It was very successful, and we hope to continue throughout the end of the year.
--Annabel R., MS Correspondent