March 8, 2019
I hope everyone enjoyed the snow-day this Monday!
As part of our study of the Industrial Revolution, we traveled on Tuesday to Woonsocket to The Museum of Work and Culture and learned about the people that worked in the mills. The class took a guided tour through history starting at a Canadian house before the family moved to Woonsocket for mill work. Their way of life was pretty different from the way we live now. For example the iron was named appropriately because it was literally a block of molded iron heated on a wood burning stove. Also, they made their food with only with what they grew on their own farm.  Later we learned about the way people worked, learned, and lived in the mill towns. The class was taught about the early phones, supermarkets, music and recreation, and even about the milk and ice men.
After the tour, our class split into two groups and simulated two factories trying to compete with each other. Assembly line production, quality control, and supply and demand were important parts of the simulation. The two groups really proved how demanding the workers' jobs were. A piece of paper was passed around, one person folded it, another person folded it again, then the front was stamped, the next person stamped the inside, and the last person stamped the back and piled the cards up. When the "day" had ended, our kind instructor counted the cards completed well and we discussed how to improve production and what the challenges had been.
On Wednesday the class took a trip to eat the most delicious food at a Dominican restaurant. We ate many different types of food and every plate at La Gran Parada was delicious.  Julia, our astounding Spanish teacher led the trip, and we must give the best thanks we can give to her because the trip gave us a taste of new culture. The middle school got on the bus with no idea what we were doing and came back with the memory of a wonderful experience. It has made us even more excited about the 8th year capstone trip to the Dominican Republic.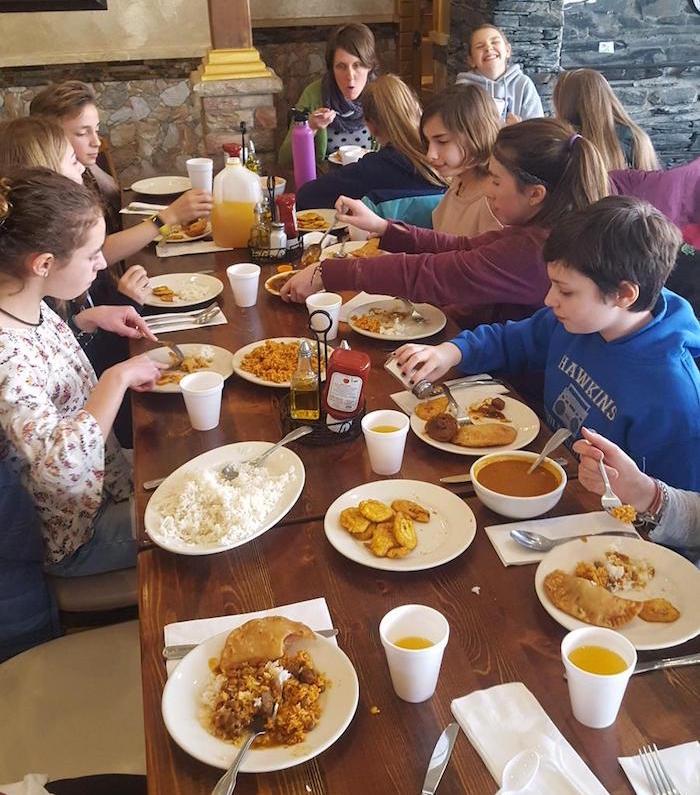 Finally, the Quest Middle School recently got some new books to add to our library!! We are excited for the new reads! Many of the books were chosen based on student recommendations, and our growing classroom library now has even more great books to choose from.
Enjoy the March break!
Your Middle school Correspondent,
J. Coghlin