Traveling to a place with a different way of life brings perspective on one's self and one's role in the community and human society. It helps answer questions central to the work of adolescents: Who am I? Where do I fit into society? How can I be of use?
This year, the eighth graders and two of their Quest guides traveled to Las Terrenas, Dominican Republic for the culminating international trip.  One of the highlights was building a relationship with the Las Terrenas International School, which is one of the many programs/projects run by the Mahatma Gandhi Foundation.  The school is much like Quest, in that it is a small, private pre-kindergarten to middle school. It is bilingual English and Spanish.
Our students spent two full days with the middle school students (8th and 9th graders) from the International School, and we engaged in some really meaningful time together.  It began with the van ride to El Limon Waterfall. We piled into the van and were warmly welcomed and made to feel part of the group. Everyone was themselves, singing to music, laughing, and joking.  The hike was educational and enjoyable. Jose Bourget, president of the Mahatma Gandhi Foundation, was our tour guide. We even got to hike through a semi-tropical rainforest and take some refreshing dips in some swimming holes.
That same day, we returned back to the International School and led an activity of tie-dying t-shirts.  It was a great way to socialize and further get to know our new friends. We all got a Quest t-shirt and made our own unique designs.  The results were fun and colorful.
The next day, our Quest students led an environmental lesson about watersheds and pollution.  We then all walked into town and painted two murals about protection of the sea. The teamwork and transformation was impressive.  We turned two drab walls into colorful masterpieces with important messages in a matter of hours. People who lived in the area were coming out to take pictures and thanking our group for beautifying the area.
From there, we walked down by the river and to the beach to learn more about pollution, water management, solid waste, impact on people, and vegetation.  Jose was our teacher again for this guided walk. We then traveled to the beachfront and talked about global warming, climate change, rising waters, coral reefs, and parrot fish.  Sadly, only 20% of our world's original corals are remaining, however, we learned about a local Dominican organization that is successfully "planting" coral. We were excited to learn this.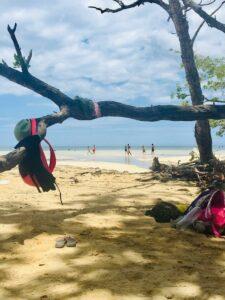 We culminated with some fun and relaxation at Punta Playa Popy, one of the more beautiful beaches on the Samana Peninsula.  The entire group then went back to our hotel, swam in the pool, played ping pong, and ate pizza. We all built some some really meaningful and lasting connections with the students, teachers, and staff from the International School.  It was the highlight of our trip.
While the eighth year students were exploring and learning in the Dominican Republic, the seventh years had a special week at Quest. One highlight of the week was taking the time to build connections with next year's classmates. Over the course of the year, middle school students have worked with Mariah deFreitas from URI's Center for Leadership Development. So, it was beneficial for her to help the students plan a two-hour block of team-building activities for which the sixth year students would join us. The benefits of bringing the two groups together were many. Most significantly, next year's middle school class had time to connect and build relationships. Although many of the students were together in Upper Elementary, as they have grown, dynamics have changed, so it is beneficial to reestablish camaraderie and take time to work on group dynamics. Having the sixth and seventh year students work together was also a valuable opportunity for a teacher to see the new students engaged in challenging activities and to observe interactions among the group. Building connections, student-led projects, and multi-age learning are key aspects of our program that coalesced beautifully in this endeavor.