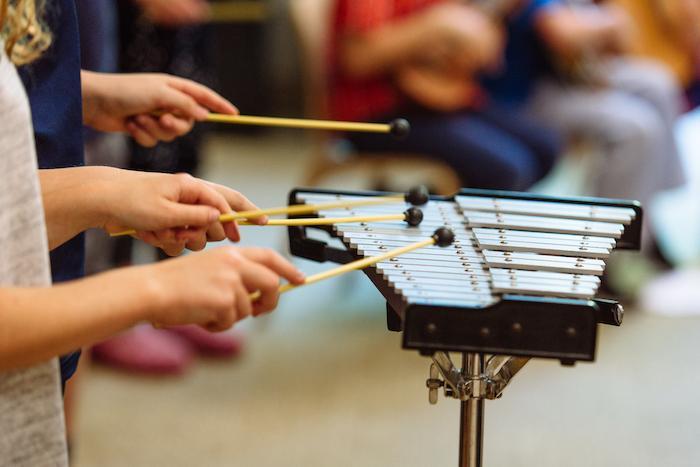 Music is an artform, a science, a language, a technology, a means of expressing and communicating, a documentation of global culture; it is a vital and ever-changing entity, and at Quest Montessori School we treat it as such.
Through small group music lessons, students experience, create, and learn to express themselves. Performance, research, and composition tools are found in and around each classroom. At Quest, students have access to a full set of Tone Bars, Montessori Bells, alto and tenor xylophones, electric keyboards, ukuleles, many hand percussion instruments, as well as access to music production software and hardware. Weekly, students are presented with new concepts in music theory, history, science of sound, Ethnomusicology, and performance practice. They are invited to explore and practice these concepts individually, and in small groups, as part of their daily work cycle and as a continuation in and outside of the classroom.
Throughout the school year, Quest students from each classroom come together to celebrate music and their time together by singing in large ensembles, often accompanying each other on instruments. As an after school program, students in Upper Elementary and Middle School are invited to play together in the OrQuestra, Quest's own student instrumental ensemble which explores music new and old from around the world.
At Quest, music is a hands-on, interdisciplinary art, and can often be seen and heard cross-pollinating different fields of study and subject matter, as evidenced by the notable Montessori Alumni listed on the Montessori Buzz.