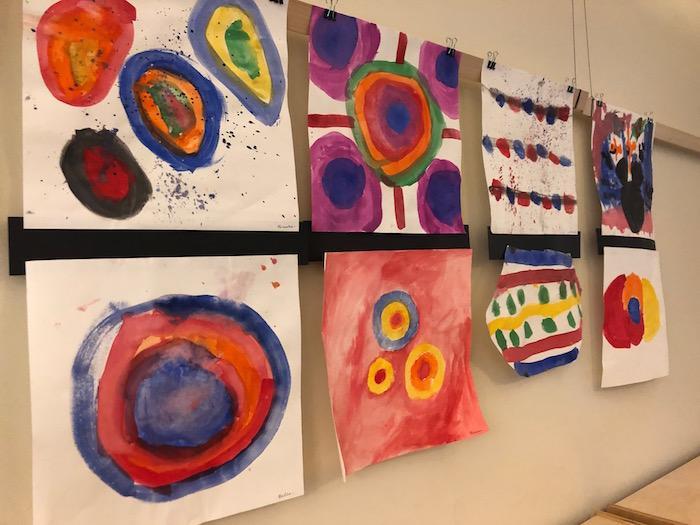 One of the most lovely things about the arts is their ability to create community. Our children are brought closer as they bond while working on projects together. Showcases, concerts, and exhibitions draw others in simply by being a beautiful reason to gather. 
In December, students have an opportunity to use their creative skills to express gratitude and love for their Quest community. They do this by preparing for the Winter Gathering during art and music lessons. The Winter Gathering is our yearly tradition when we invite members of the community to join together before the winter break. At the Winter Gathering guests are welcomed with cheer and song entirely crafted by our students. 
During the December weeks the weather starts to turn, but the halls of Quest are warm and buzzing. Busy hands create works of art to adorn the school with pride. Eager voices practice songs to share with guests. Joyful conversation is heard form the kitchen as groups bake and decorate cookies to serve parents and loved ones. 
Many Hands Make Short Work
When the day arrives, many hands make short work as students and teachers come together to set up chairs and rehearse a final time. The kids are electric, both excited and nervous to share their songs with their families while eagerly anticipating their arrival. The teachers share words of encouragement and can't believe how much everyone has grown in just a few short months. Every year we are truly moved by the children's ability to express themselves musically and artistically.
Gather Together
As everyone knows, the holiday season is a very busy time of year. As you are rushing around and checking items off your own to do list we invite you to come take a break with us on December 20th for our Winter Gathering. Come together, relax, and enjoy the celebration our children have worked so hard to create.
In the meantime, here is a fun memory from last year's gathering to get you into the spirit...