Maria Montessori held a fundamental belief that we are born with everything we need. The Montessori environment is designed to support this unfolding and blossoming, with the goal of keeping adult agendas out of the way and to preserve a love of learning. As societal pressures seem to increase as students grow older, the Middle School here at Quest makes an intentional effort to continuously support students' exploration of self and identity. With a strong sense of self, students will be able to navigate many environments and step into their courage in powerful ways. 
Consistently, we hear how Quest graduates know how to self advocate, are self-assured and adaptable. This building of inner strength (valorization, as Dr. Montessori called it) becomes a part of the person at a cellular level as they move through this Montessori environment. The recipe involves many ingredients, but some of the key components include: being respected, having a voice and having a sense of agency. Below are some examples of how Quest Middle School supports the growth and development of our adolescent students.
Student Leadership
In Middle School, we focus on the strengths and resilience of each person, while also normalizing vulnerabilities. Our partnership with the URI Center for Student Leadership Development helps us support this and makes us feel part of something bigger. Students begin the year by taking an online assessment - Gallup StrengthsExplorer - which helps them discover their own talents. Gallup has done decades of research to show that the "greatest path to a thriving and engaged life happens when [students] understand their talents and develop those talents into strengths." Students are given many opportunities to reflect on how they are utilizing their strengths and how this contributes to the community. We make several visits to the URI campus and invite visitors/presenters into our school throughout the school year. Through this process, students begin to realize that we are fundamentally similar and also very different as humans. Part of our focus is to celebrate those differences and "strength-spot" each other.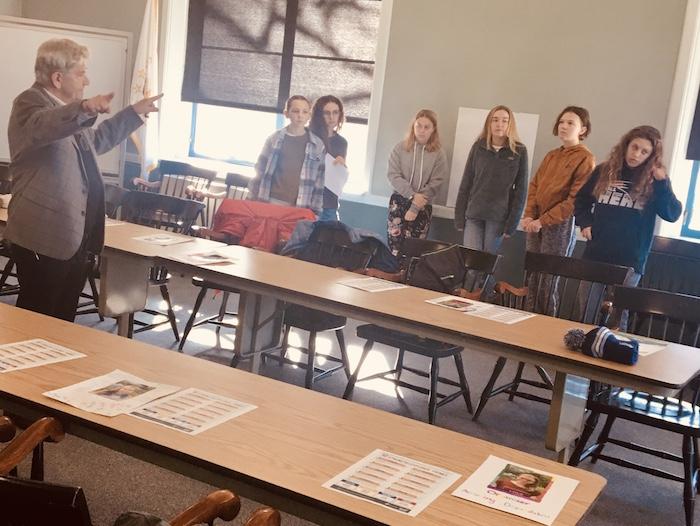 Morning Meetings
We begin every morning in a circle, which we call Morning Meeting or the Circle of Power and Respect. It is a powerful way to begin the day and symbolizes our inclusive and whole community. Beginning the day in this manner allows us to connect with each other and transition smoothly into the rest of the day. Each one starts with a greeting and then we move into an activity or discussion. Once per month, we host Autumn Francesca, who teaches and practices mindfulness with our class. On Tuesdays, students take the lead and run the circle, taking responsibility to plan and facilitate a meaningful start to the day. Oftentimes, we will recognize important dates and their meaning. Many meetings focus on the concept of courage - our mantra for this year is "brave, not perfect."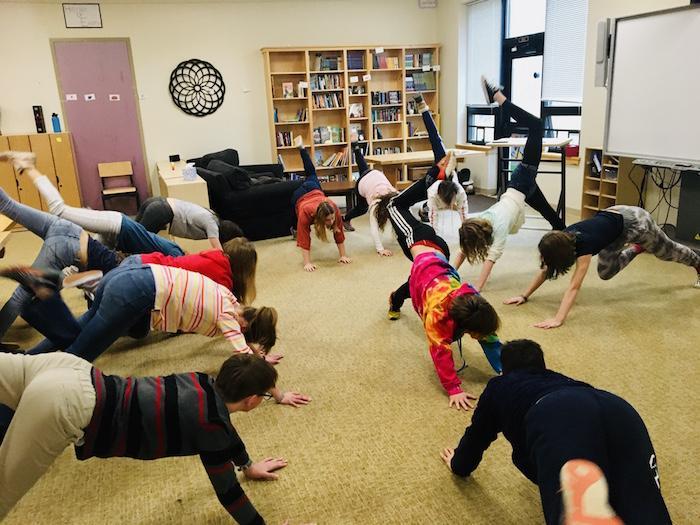 Council Meetings
Council is a bi-monthly, student-led community gathering to address communal issues, share information, introduce ideas, and determine the direction of the student micro-business. Universal democratic participation in council is essential to our community. Council leadership roles include a chair, vice-chair, and secretary, which rotate several times per year. We follow a standard formal meeting procedure. In Montessori education, social organization must be a lived experience and not just something that is taught and memorized.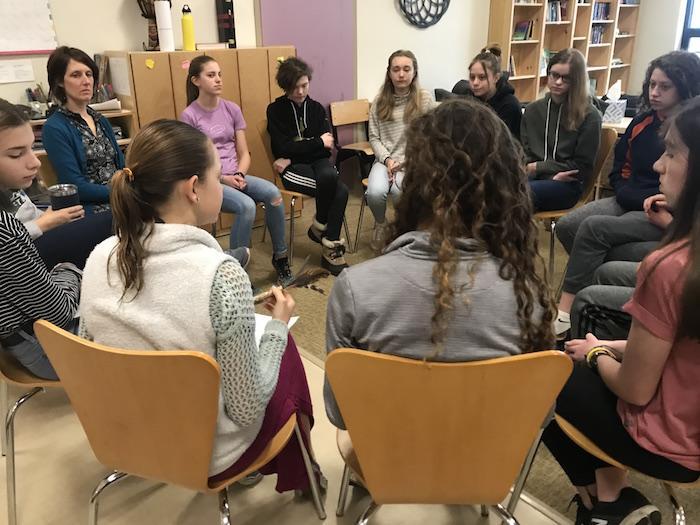 Nonviolence & Peace Studies / Civic Engagement & Social Justice
As young people enter into the third plane of development (12-18), the focus for them turns to personal dignity and justice. We do a lot in the Middle School to support this. We implement a Nonviolence and Peace Studies curriculum during the first two weeks of every school year and partner with URI Center for Nonviolence and Peace Studies and Nonviolent Schools RI. We also host an annual Fall Peace Night where students are the teachers to families and community members.
This year, we have redefined our eighth grade capstone trip. For the first time, students will be experiencing a Civil Rights Historical and Educational Tour, traveling to Atlanta, Tuskegee, Montgomery, Selma, and Birmingham. We also established a partnership with Inly Montessori School last year and continue to work with them. In the fall, we visited their school and took part in activities and discussions related to Identity/Systems and Social Media. In the spring, Quest will host Inly at URI for a day of leadership and nonviolence, where we will learn about the social change model and create a mock student center. As social experiences become more important to middle schoolers, we work to create opportunities that allow them to authentically connect with one another.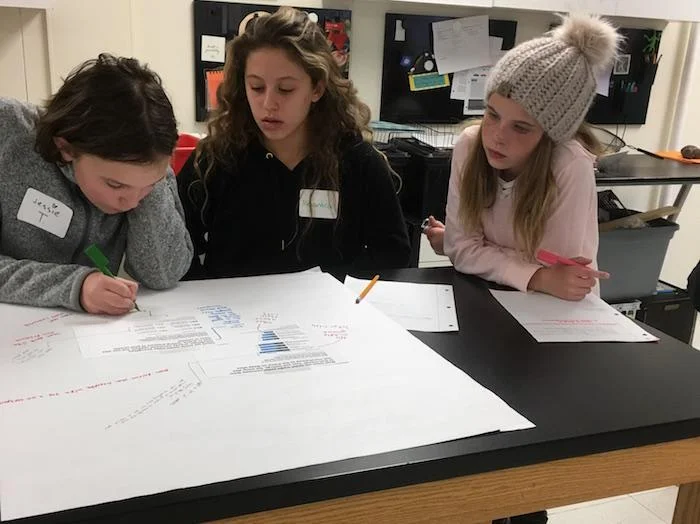 Student-Led Conferences
In the Middle School, students take the lead during the school's bi-annual parent/teacher conferences. With guiding questions and plenty of time to gather work that they are proud of and work that they found challenging, students take ownership of their learning and are able to articulate their own process. They also reflect on how they are utilizing their strengths and set goals and intentions that make for rich discussions. This is a hugely powerful experience for students to step into this role and for parents to see their students in this way.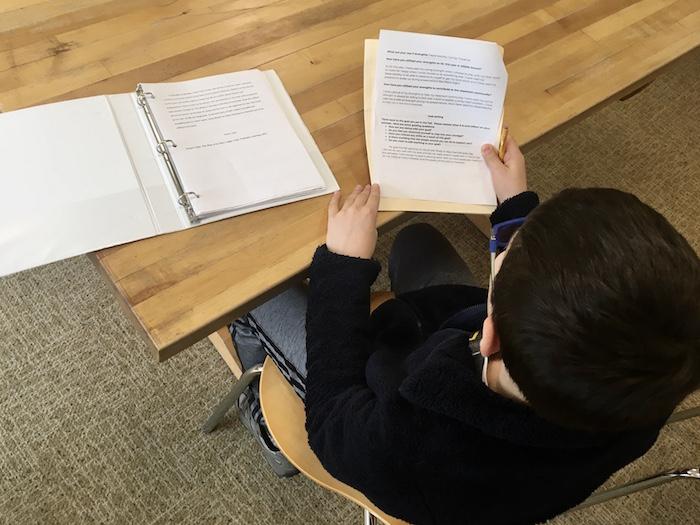 Student Micro-business
Students in this plane are learning more about economic independence.  The middle school students run their own business, Narrow River Naturals. From the beginning of the year, as a community, they decide what they want to make, how they want to market it, and where they want to sell. Several students in the community have an occupation that allows them to take a leadership role in the micro-business. This year, students have made beeswax wraps, lotion bars, elderberry syrup, and pumpkin bread. Our greenhouse managers have also overseen the growing and selling of microgreens. We recently just connected with Sandra Enos, founder of Giving Beyond the Box, where we will be partnering to sell our lotion bars in the Mother's Day Box of Care. Each of the boxes are curated to feature products that carry social missions.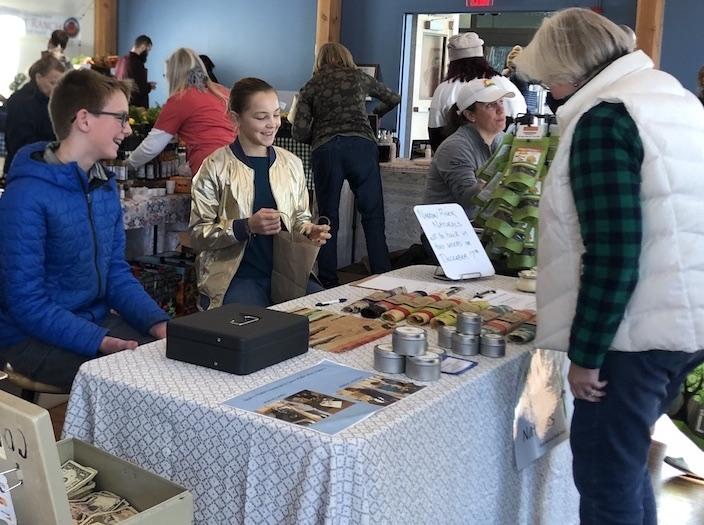 Outings And Partnerships
How does society work?  What is adult work and what does it look like?  These are questions central to the adolescent. In the middle school, we go out into the community often and also have people visit our classroom to augment the core curriculum.
Some examples that have supported Middle School Science include:
Edward Avizinis, Natural Resource Services, Vice President and Wetland Biologist

Veronica Berounsky, Ph.D., Graduate School of Oceanography & Narrow River Preservation Association, Marine Research Scientist

Melati Kaye, Scientist, URI Masters Student, research

addresses data and communication gaps in tropical fisheries management 

Mark Bowen, Quest School solar panel investigation

Michaela Cashman, URI Ph.D. Student, Department of Geosciences

RI Wild Plant Society

Narrow River by Middlebridge Road, ongoing visits to collect water quality data

Dr. Soni Pradhanang, URI professor, hydrologist 

Wood River, Wood-Pawcatuck Watershed Association

Graduate School of Oceanography and Inner Space Center

University of Rhode Island pool, test Remotely Operated Vehicles and participate in a SeaPerch Derby with other schools

Dr. Laura Meyerson, URI, greenhouse and lab tour, invasive species

Windmill, Jamestown Historical Society

Nuclear Reactor Test Facility, Graduate School of Oceanography

Wind Turbine, North Kingstown, Wind Energy Development 

Prudence Island,

Narragansett Bay National Estuarine Research Reserve

Boston Museum of Science, Body Worlds Exhibit

Roger Williams Park Museum of Natural History and Planetarium

Frosty Drew Observatory

Dr. Bongsup Cho, URI, Director INBRE and Pharmacy Professor
Some examples from English Language Arts and Humanities include:
Padma Venkatraman, local writer

Rob Cagnetta, Owner of Heritage Restoration - The Industrial Revolution as seen in buildings of early America

Museum of Fine Arts Boston

Museum of Work and Culture, Pawtucket, RI

Freedom Trail, Boston

Newport Revolutionary War walking tour

John Brown House Museum, Providence

Frederick Douglass and the Underground Railroad Tour, New Bedford

Rhode Island Statehouse