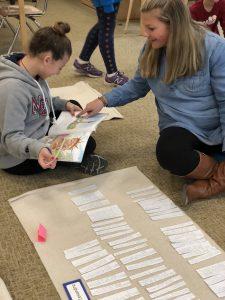 Upper Elementary entered the classroom this week invigorated by the Thanksgiving break, and ready to embark on new challenges!  Our Sixth years are diving into the next big phase: the New York City Capstone Trip. Students have selected their area of research and are beginning to construct their presentations by organizing their research information for their first drafts.
Excitement was tangible as we embarked on a discussion of which Broadway play to see. (Alas, Hamilton is not in the budget!) We all look forward to finalizing the details, setting the itinerary and selecting these events.
This week, Sixth years also started a series of lunchtime visits to Middle School, where they are reconnecting with old friends as well as making new ones! The students are excited to experience the Middle School environment and have the opportunity to envision their next step at Quest.
The return from the holiday also signaled the return of Meaghan to the classroom, and a lively discussion of our "classroom contract" to welcome her back into the fold. Also joining the class is a new 5th year student, Cedric, who was happy to see some familiar faces from his years at South County Montessori School. 
As short as the time prior to winter break seems, we have some exciting projects up our sleeves that are sure to keep everybody absorbed and will make the time fly by!