The Quest Montessori Day: Toddlers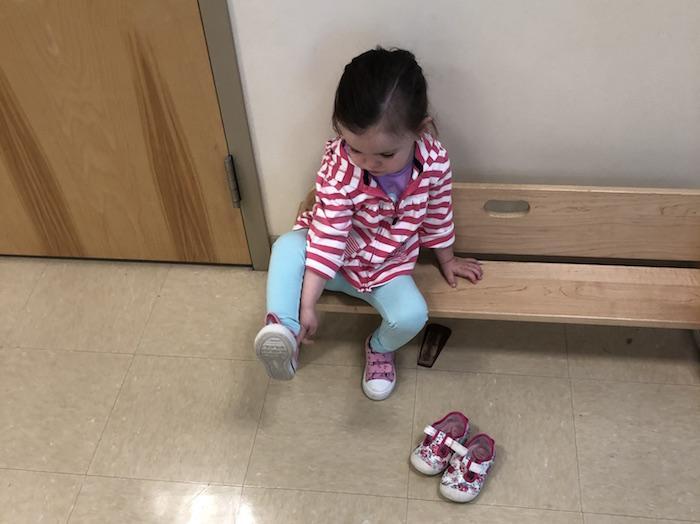 Busy, Busy.
The Toddlers are very busy from the time they walk in their classroom until the time they leave in the afternoon.  As your toddler enters the classroom they are learning to put their belongings in their cubbies and to change into their indoor shoes at the bench.  Now they are ready for their day.
Most of the Toddlers are very interested in exploring the works on the shelves. Some of theses works include puzzles, language cards, dressing frames, and learning how to put on mittens and jackets before the cold weather sets in.  In order to define the work that they are doing, we are teaching them to get a mat and roll it out to place their work on. When they are finished their work they are expected to return it to the shelf that they got it from. Now they are ready to roll up their rug and carry it back to the basket.
Coming Together
Gathering time is always a favorite in in the Toddler room.  They love to sing songs and listen to stories and sometimes we may do a little yoga to stretch our bodies.  We are starting to learn a lot of language at snack time as we all sit together and chat with our friends. The Toddlers are learning to pass the snack bowls to each other and pour water from the pitcher into their cup. Our students grow together into a close-knit, caring community. When children work, learn and grow together, they learn much more than any of them could learn alone.
After snack the Toddlers go over to the bench to put their outdoor shoes back on for outside time.  On our way out to the playground I remind them that we need to have "walking feet" and to stay on the sidewalk. There are a lot of fun things to do on the playground.  We blow bubbles, play in the sandbox, ride bikes, swing on the swings and most popular is climbing up the ladder and going down the slide.
Time to Rest
When it is time to go inside for lunch the Toddlers clean up the sand box and make sure the bikes are put away.  We walk back up to the classroom and have another opportunity to work on jackets and changing shoes. The Toddlers take turns washing their hands and then sit down for community lunch. We are learning to be independent unzippering our lunch boxes and containers to take our lunch out and put it on our plates.  After we have had lunch and cleaned up all of our things, it's time for nap. The Toddlers enjoy their time on their cot resting and sleeping especially if they get their back rubbed. After nap we read stories and wait for Mom or Dad to pick us up.
As simple as our day may sound spelled out in this manner, every day in a Montessori Toddler classroom is an opportunity to work on and master a new skill. Often, children who don't do things for themselves simply don't know how or haven't been given the chance. We take a different approach – by observing your child closely, providing just the right lesson when she is ready and then allowing her to practice again and again (and again!) until she masters it. Mistakes are viewed as learning opportunities in an atmosphere of patience, trust and respect. We are excited to be sharing this journey with your children!