In honor of Thanksgiving, we wanted to share a Quest tradition that carries the same spirit: Community Lunch.
Four years ago, "Birthday Baking" was started in Lower Elementary. The teachers were looking for another way to align practical life skills such as food shopping, following directions, and working within a budget to support the core values we have here at Quest. The birthday children were responsible for planning, shopping, and preparing a meal for their peers. It became an additional way we would teach the children how important it is to give back to their communities, and to practice grace and courtousy towards each other. 
When we first began, we were cooking sugar cookies, muffins, and brownies from the box. We decided that we could do better, and birthday baking evolved. Recipes became healthier as we moved towards vegan cookies, cakes, soups and other appetizers, all made from scratch with wholesome and healthy ingredients. Students discovered that making items from scratch not only eliminated chemicals and additives, but things actually tasted better. The shift toward more holistic cooking built confidence, and helped students work on their math and practical life skills. Our goal became simple: choose something they find tasty, and that we find nutritious. This led birthday baking to evolve into what we now call Community Lunch and grew to include both Lower and Upper Elementary.
The Making of a Meal
So, it is their birthday month – where do the students begin? It starts as any meal planning would, with ideas. Students develop ideas of what they would like to cook for their peers, and meet with the classroom assistant, Caitlyn to review and find recipes. They combine all recipes and set out to take inventory of ingredients on hand, and build a list of the items that are needed.
To fulfill the shopping list, students write a formal letter to their parents advising them of their responsibility to bring a few ingredients to school before cooking day. Caitlyn and the birthday bakers then make a prioritized grocery shopping list and a budget. The list provides them with a guide to navigate the aisles, a prioritized goal and they must work within a set time frame. While shopping, they compare prices to stay within their budget and look at the nutritional information of each item. For several students, reading labels and ingredients is a new experience. After these outings teachers will often notice students talking proudly about the nutritional content of their lunchbox items, namely the sodium levels on their packages.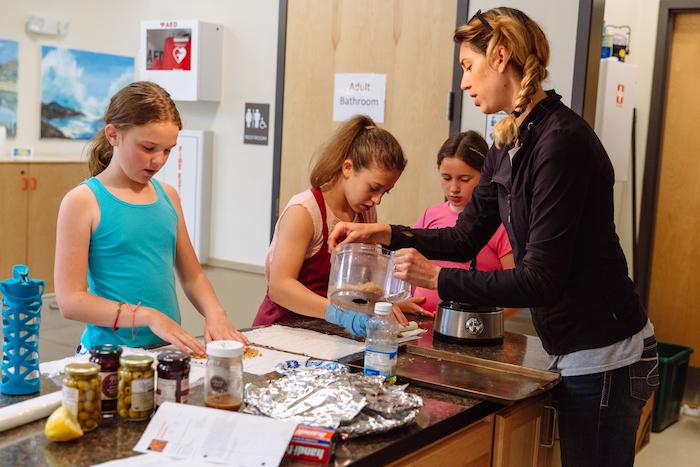 Get Cooking!
On cooking day, recipes are printed out and Caitlyn sits with the students before they begin to be sure they understand the directions entirely. Often the recipes are intended for 2 people, allowing for a lesson on fractions of measurements used in real-life applications. Caitlyn also shows students how to level off their measurements and how to double, triple and in one case duodecuple (that's 12 times) the ingredients to be sure that everyone in the class will receive a helping. Caitlyn even holds the greatest secret on how not to cry while cutting onions! You will have to ask your student about that one, if they are willing to divulge.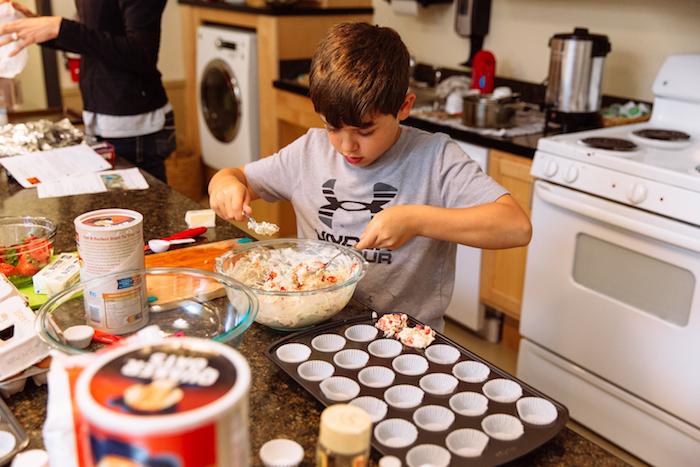 Setting the scene, and serving the table
For each monthly meal, there is also a menu, describing the ingredients in each item. The team of student chefs must come together to agree on a theme for the menu as well as an etiquette tip that they will then share and practice at their community lunch.  It's never a bad time to practice grace and courteously, especially at a large family-style meals.
Tables are moved and set together to accommodate students from both classrooms, ensuring that grades mix and the older children host the younger. Once everyone has settled in, the student chefs present their menu and etiquette tip to the class and then personally serve their culinary creations to their peers.
The transition from Birthday Baking to Community Lunch has been a natural progression and an extremely fulfilling way for students to share their birthdays with their school-mates. There is always talk about the fun in being a part of the planning, cooking and sharing the meal and the discovery of how much work actually goes in to preparing a meal for others.
Ultimately the students look forward to cooking for their classmates every year, and Community Lunch has become a monthly staple and treat for the Quest Montessori family. We are so fortunate to have such wonderful, open-minded children to share this experience with.