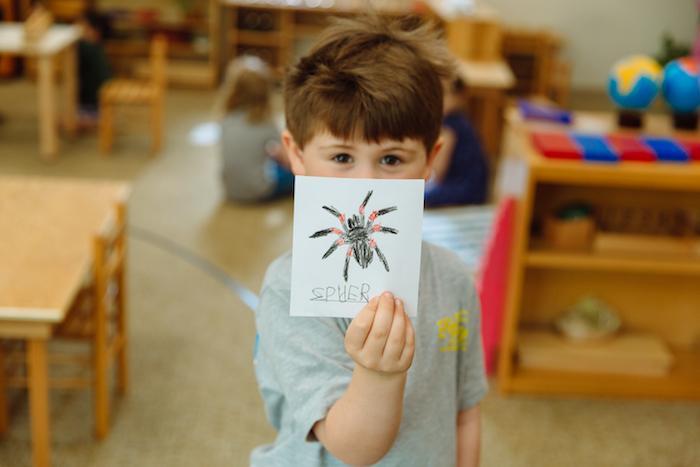 Thank you for your interest in Quest Montessori!
Visiting Quest will most likely be quite different from other school tours. Here's what you can expect.
Visiting our school will allow you to observe our classrooms in action, tour the school, converse about your child, and learn about Montessori education. This is an essential step in the admissions process. Please note that these initial visits are for adults only. Your child will have an opportunity to visit at a later time.
After a brief introduction to our school, you will have the opportunity to quietly observe a class for about 20 minutes. Depending on the age of your child(ren), you may observe multiple classrooms at different levels.
Classroom Observations
Maria Montessori's vision was for mixed ages to work together in the same environment, with one lead teacher, or "guide", and one assistant. Children from 18 months to 2.9-3 years old are in our Toddler classroom and 3 to 6 years old are part of our Primary classrooms. Children from 6 to 9 years old comprise the Lower Elementary, 9 to 12 years in the Upper Elementary, and 12 to 14 years in the Middle School.
Children work independently and in small groups, practicing skills appropriate to their abilities and interests. They also receive individual and small group lessons in all areas of the classroom. With guidance and experience in the Montessori classroom, children become skilled at independently choosing work for themselves.
As you spend time in our classrooms, you may observe:
The environment is organized and attractive
The teacher acts as a guide to connect the children to meaningful challenges in the classroom environment
Multi-sensory, hands-on materials are in regular use
Each child has the opportunity to choose work that interests him/her
The emphasis is on learning by doing and social development rather than drills, memorizations, or finding information only to answer specific questions
A child may work as long as he/she wants on an interesting challenge without being interrupted
The child is allowed to choose a favorite spot to work instead of the adult choosing where he may sit
Children are encouraged to teach, collaborate, and help each other
The children have a regular opportunity to work with children of different ages
The teachers and staff show respect for the children
Children are respectful of the teacher and the environment
The guides and the environment encourages internal self-discipline rather than the teacher acting as primary enforcer of rules
Learning is its own reward, not motivated by prizes and extrinsic rewards
The children are calm, focused, and joyful
All of these activities are a normal part of the life in our classroom and a large part of what makes our dual-accredited program so transformative for our students.
School Tour and Q&A
Following your classroom observations our Head of School will sit down with you to discuss your observations, answer your questions and learn more about your child. Some of our frequently asked questions are addressed here.
This is an exciting and critical first step of our admissions process and we are eager to share the differences in our program that has allowed Quest to become Rhode Island's only Accredited Montessori school. For information about the next steps, see our Admissions Process.
We look forward to welcoming you to our community!